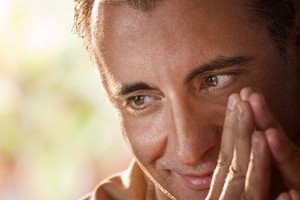 All Vince Rizzo's nightmares come true when he sees his daughter standing in her underwear and a satin robe, wearing the thick, dark makeup of a hooker.
As far as he knew, Vivian had been busy studying, not wrapping herself around a pole at a seedy bar for money. She was his beautiful, smart daughter who had won a scholarship to college.
Vince howls, then clasps his face in his hands. And Andy Garcia, who plays Vince in family dramedy City Island, says he also looks the other way when he watches one of Vivian's pole dancing scenes. Off-screen, she is his 27-year-old daughter Dominik Garcia-Lorido.
As a family man, Garcia is able to relate to his character Rizzo, but that's not the only reason he took the part in the quirky independent film.
Writer-director Raymond De Felitta approached him with the script a few years ago and Garcia says he instantly fell in love with it.
"It was beautifully, constructed, very human, but very funny, with a very strong chord to it. I found the character to be filled with dreams, hopes and inadequacies and a desire to do well."
The story revolves around the members of a nuclear Italian-American family living on City Island, a part of New York borough The Bronx.
Like any modern family, they harbour their own secrets - and the patriarch Vince's include an illegitimate son and an acting ambition.
"I read the script and I wanted to see the family come together, I wanted them to succeed. I think that was a good position for the audience. You want Vince to become an actor, and to reunite with his estranged son as well as make family work."
Garcia jumped on board as a co-producer, helping raise the funds, and cast actors he wanted to work with. He had British actress Emily Mortimer, The Good Wife's Julianna Margulies and Steven Straight in mind for their roles as he had worked with them before.
"You want to play with the best, you know," he says.
His daughter was De Felitta's decision. She had narrowly missed out on a role in hit HBO series Entourage, and the show's casting director had contacted De Felitta to recommend her for his film.
"It was his call. I said to him 'I would love to work with her but it's your call. I support her being in it, but I'm not going to force it'."
Garcia passed his love of acting to his children. Younger daughter Daniella recently graduated from drama school and his youngest, 8-year-old son Andres, also shows signs of a passion for the stage. Dominik has worked with her father twice before, as he cast her in his 1995 film Steal Big Steal Little and in 2005's The Lost City.
"I don't push them in that direction but if they've got something they are stimulated by, then I encourage them to study," he says.
Fortunately, as City Island is a family-friendly film, the character Vivian does not strip but Garcia was conveniently off set the day they filmed her interpretative pole dancing scene.
"I tie my shoe when that scene comes up and I encourage the audience to do the same," he says.
As well as the protective fatherly aspect of the film, Garcia found himself in deja vu situations as his character Vince secretly pursued an acting career.
In one cringeful scene, Vince is encouraged to audition for a role in a Martin Scorsese film. Overcome by nerves, he finds himself pulling out an impersonation of his acting hero Marlon Brando when it wasn't called for.
In his next attempt, he pulls out a fiery, cussing improvisation of a gangster. This scene truly was improvised, and Garcia truly does admire Brando, in fact he decided Vince's obsession with Brando would be a running thread in the film. The awkward audition was easy for Garcia to enact, as he has been there before.
"You are entering unknown territory. You don't think because your soul is talking.
"All actors have been that situation where were very unhappy with how it went," he says. "You become more confident and learn from it. Those were the kind of memories I brought to the scene."
Garcia says Vince is one of the most complex characters he has played.
"I would put Vince up there as a character who I felt was very beautifully written. Sometimes you respond to something intrinsically, and you're not quite sure what's drawing you in but there's something in the subconscious and subtext of the material that has already touched you. And as you get closer to the inspiration you realise that 'oh, now I see what I like about this character'."
Garcia knows very well that the romance of working on an independent film can be offset by the work involved.
"You don't have any security. But creatively but there is a lot of mental freeness. In a way it's a very romantic, idealistic and utopian way to work, the downside is obviously you are operating without a net. It's risky but, at the same time, very invigorating."
City Island was shot over 27 days, the tightest turnaround Garcia has ever been involved in. But it's opened to good reviews and had a long run at American cinemas - which Garcia had anticipated right back at the start.
"It being a risk was not an issue for me. A risk is when you have a bad script. This was a great script."
LOWDOWN
Who: Andy Garcia
What: Godfather III, Oceans Eleven, Twelve and Thirteen, The Lost City
Latest: Plays Vince Rizzo in indie film City Island, in cinemas today.
-TimeOut