As Outrageous Fortune heads to its last round (and becomes a museum exhibit) Jacqueline Smith wondered what we've learned from six years of life with those wicked Wests.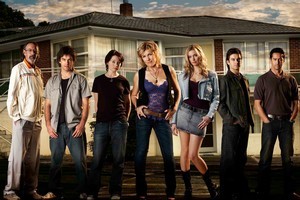 Pascalle's broken-hearted, again. Judd's leaving the wild West house with a scar that rivals Draska's. He's given Van the money to buy Elena the pretty Russian from her fat, old husband. Loretta's finessed her blackmail skills and seems to be using them for some good - enough to put dirty old Grandpa in his place. Jethro's latest flame Bailey is getting her 15 minutes of fame. It's thanks to her, but mostly Judd, that Cheryl's finally home ...
For thousands of Outrageous Fortune fans, it's hard to imagine New Zealand drama without the Wests, but from 9.30pm on Tuesday they will exist but as memories, and DVD box-sets. The show will also receive one final salute with an exhibition at Auckland Museum.
On December 15, the West's lounge will be opened to the museum's visitors, giving grieving fans a chance to see how their favourite characters came to be.
Curator Amanda White says the series warrants such a send-off because not only did it show off the brilliant writing and acting of New Zealand drama - winning 60 awards over six seasons - but also told a story people connected with.
"It's been phenomenally popular," she says, "yet it's a series about this completely dysfunctional family that has its own moral code, which is all about loyalty. These are quite universal ideas. It says something about who we are as New Zealanders, but also who we are as humans, especially when all of those characters are faced with questions, dilemmas and issues that force them to think about where their loyalties lie."
White prefers not to talk about what we learned from the series, but rather what it reveals about its audience - "the kooky things about being a New Zealander. The in-jokes. It's like looking in the mirror."
West Auckland's Penny Hulse, who is now the deputy mayor of Auckland's Super City, says that like most of her fellow Westies she has always been a fan of Outrageous Fortune.
There's always a steady trickle of cars going past the West's house in Te Atatu and there's a great deal in pride in the series, she says.
Some West Auckland residents have accused it of being a Ponsonby resident's take on the area. And, yes, it may be fictitious and stereotypical, but Hulse says that in general Outrageous Fortune has done a good job of putting Westies on the map.
"There was some huge stereotyping. If you really wanted to cover the West you would have artists and playwrights and university professors and you don't see a hell of a lot of them in Outrageous Fortune. But there's quite a few West family members out West, no doubt about that."
Despite being based on a distinct Auckland subculture, Kiwis right around the country have been able to identify with the characters, especially in the way members of the West family always have each other's back, she says.
"Even though everything they did was vaguely dodgy and questionable, there was a some sort of misguided honour attached to a lot of the things they did."
Charles Crothers, a professor of sociology at AUT University, says as with all media consumption, it's important viewers see something of themselves on their television.
"Outrageous Fortune tries to pick up the working class nature that a lot of people associate with West Auckland, the mixed ethnicities, the relatively easy mixing. Recently there's even been the Yugoslav aspect. It's all that very laid-back, barbecue, beer-drinking, West Auckland culture. Of course it's very different to some suburbs, like Titirangi and Piha, but is reflective of others."
The very New Zealand content of the show is important, as it forms a connection between fiction and everyday life, he says. "The characters show a somewhat livelier version of the dull lives we lead. They give us vicarious entertainment, we take a virtual adventure with these somewhat similar folk and don't have to do it ourselves, thank goodness."
Dr Geraldene Peters, a senior lecturer in Communication Studies at AUT University, says it was the West Auckland setting that drew her into the series - she grew up around V8 cars and the black jumpers.
Putting on her academic hat, she says: "I think bogan subcultures get a bit of a hard time. There is that connection, maybe not so much in the criminal aspect of the West family but certainly in terms of a cultural group that does exist in New Zealand and is portrayed quite well in the series. There's a bit of caricature in there but it gives a bit of class to a New Zealand subculture that doesn't have a lot of class."
Stereotyping and caricature are difficult to avoid when you are getting a drama into a prime time slot, she says.
"I'm not so sure that anyone would watch Outrageous Fortune in order to learn how to be in society, but it would be for the pleasure of identification of some aspect. It doesn't have to be Outrageous Fortune, it could be another programme, but that value of a primetime New Zealand drama about a New Zealand cultural group is what's most important.
"Clearly people identify with the characters and that's why they tune in each week."
What we really learned from Outrageous Fortune, as its ratings swelled and awards accumulated, is how good local drama can be.
"We learned it's possible to produce good New Zealand drama that the broadcasters and audiences will support," Peters says.
LOWDOWN
What: Outrageous Fortune's final episode
When and where: 8.30pm Tuesday, TV3
Facts and figures: The series has enjoyed six seasons on TV3. This final run has pulled the highest ratings, which can partly be be attributed to its earlier timeslot of 8.30pm.
So far it has won 60 awards for scriptwriting, acting, image and sound, editing and directing, as well as being voted the best drama on New Zealand television and the best show on New Zealand television.
An American adaptation of the series, called Scoundrels, aired this year.
Kirk Torrance and Antony Starr have been named sexiest man by Metro magazine and TV Guide respectively.
Robyn Malcolm is often named sexiest and best female television personality.
Just to leave you hanging: In this week's penultimate episode, Cheryl came home from prison. The episode closed with lawyer (and Jethro's lover) Bailey giving a statement to reporters, while Cheryl's besties raced her home for a boozy celebration.
It was Judd who provided Gerard's damning police file, and this essentially got Cheryl off her charge, but he was seen packing his life into boxes as he prepared to take off somewhere, leaving Pascalle looking forlorn at Loretta's brothel.
-TimeOut