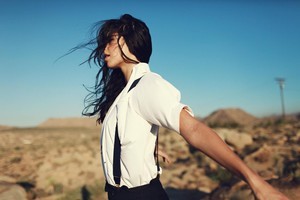 Brooke Fraser's latest album received a mighty salute from Auckland on Saturday night. Her performance at the Civic brought her third album Flags to life, and also gave the audience more of an insight into who she is.
Opening with atmospheric foot-stomper Orphans Kingdoms from Flags and then melting into the chocolaty Shadowfeet, the willowy beauty proceeded through a repertoire that swelled and tingled in all the right places. Each song was an event, as was her stand-up comedy - little recitals of jokes that, as she warned, were not particularly funny, but endearing nonetheless.
She has a knack for using self-deprecating humour to connect with her audience, and after appearing all gazelle-like fashionista in the opening songs, it was when she took off her heels and relaxed into her crowd that the concert really took off.
Her wit was complemented by the whimsical quips of opening artist Lydia Cole.
Unfortunately, many members of the audience missed half Cole's performance because of a sound glitch.
Other than some talk of visibility and sound issues in the mezzanine, the Civic was the ideal venue for Fraser's atmospheric performance. Special mention must go to mighty drummer Aaron Redfield, who Fraser aptly described as an octopus. She added that being half-German, half-Mexican, he was "accurate and festive" with his drumming.
Between the jokes, shout-outs and a heart-felt plea to help her raise money to provide people in Africa with clean water, Fraser also transported her audience with powerfully smoky renditions of CS Lewis Song and Albertine, as well as the new numbers Coachella, Ice on Her Lashes and the song she wrote for her husband but dedicated to a 5-year-old admirer, Sailboats.
The audience rose from their soft seats for her "fake last song", the country singalong Something in The Water, before she bid goodnight on Here's To You (or Cheers), a song she wrote while imagining she was wearing a pirate patch and wielding a shotgun.