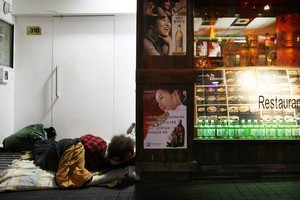 Auckland's homeless are a political football at the moment. It's been left to the Super City to ensure the Rugby World Cup won't cause problems for them. Social service agencies don't want a repeat of Apec 1999, when police harassed the homeless to keep them out of sight of foreign dignitaries.
The political calculation then was as cold and callous as winter rain on cardboard: we won't help these people, but we'll boot them out for the sake of visiting VIPs.
But this week, the Basement Theatre has been one small patch of the city where homeless people are welcome. Tonight is the last performance of Providence, a play about the difficult relationship between a homeless man and his sister, and the general public have been invited to sponsor tickets for those of no fixed abode.
Playwright and director Louise Tu'u was partly inspired by a trip to New York, where charity posters openly seek donations of warm clothes for the homeless.
"Here the problem is more hidden, more local," says Tu'u. When she was growing up in Grey Lynn, her parents knew the villages in Samoa that several homeless people came from, and how they had ended up on the streets. (Most homeless people in Auckland are Maori men; very few are white - an indicator of social inequality.)
As research, Tu'u spoke to several homeless people about their lives, and she and two actors slept rough one night - or rather, mostly lay awake - under bushes near Upper Symonds St. Another night, Tu'u donned a beanie, practised mumbling and checked into a Lifewise shelter under a false name. "Being brown meant I was credible."
The shelter's usually $10 a night but as a "newbie" Tu'u got a night free. Check out was at 6am, and lists of rules were pinned to the kitchen walls. Again, she didn't get much sleep: "Another woman snored like a donkey," she laughs.
To test whether all this hard experience had given the play some authenticity, an earlier version of Providence was performed for an audience of homeless people and social workers. There was a heckler with a booming baritone.
"He kept calling out, 'That shit's not funny!', but then we had a joke about the Herald, and he laughed and then shut up."
In the end, more than one person wrote "that is my life" on the feed-back form. Still, Tu'u questions whether theatre - a middle-class art form - can portray homelessness with accuracy or insight.
She thinks it can, but only by shaking up the art form itself. In the latest version of the play, not only the content but also the risk-taking of the performers and the structure - slightly aimless, occasionally rough - are inspired by homelessness.
By using tapes of rehearsals during the performance, Tu'u wants the audience to see how the play has been put together, how she as a non-homeless writer is presuming to play God, intervening in the lives of her homeless characters. "Docu-drama is too easy," says Tu'u. "I'm not trying to make people comfortable by presenting cliches of homelessness."
All this in full view of the Grey's Ave council buildings. A good reminder that some of us are already more comfortable than others.