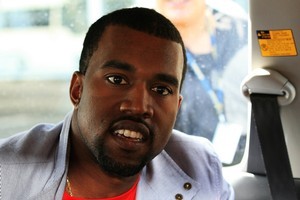 "Yoooo they banned my album cover!!!!!" boomed indignant rapper Kanye West during a Twitter frenzy yesterday, venting his fury that the artwork for his new album, My Beautiful Dark Twisted Fantasy, has been "banned" in the US.
The rapper - whose new album will be released next month - is furious because retail giant Wal-Mart has reportedly refused to stock the album with its intended artwork.
So what's the beef with the controversial artwork? If you haven't already clapped eyes on it, brace yourselves...
"Banned in the USA!!! They don't want me chilling on the couch with my phoenix!" West tweeted, with a link to the offending article (Warning: NSFW).
The cover art, designed by painter George Condo, depicts a nude West, bottle in hand, being straddled by an armless, winged nude woman with a polka-dotted tail.
That's quite a twisted fantasy, West!
The Phoenix on the album cover refers to the main character in West's new film Runaway, in which he dates a creature that has fallen to Earth.
West, never one to sugar the pill, bemoaned the stink over the LP's artwork, claiming his "true creativity" had been stifled.
"In all honesty... I really don't be thinking about Wal-Mart when I make my music or album covers. I wanna sell albums but not at the expense of my true creativity," he wrote.
"I know that cover just blew yall minds ... I wish yall could see how hard I'm smiling right now!!!"
He added: "In the '70s album covers had actual nudity... It's so funny that people forget that... Everything has been so commercialised now."
"So Nirvana can have a naked human being on they cover [Nevermind] but I can't have a PAINTING of a monster with no arms and a polka dot tail and wings."
But there's just one slight problem with West's story: Although some mass-market retailers had supposedly raised a cynical eyebrow over the proposed artwork, none of then actually "banned" the cover.
According to the Los Angeles Times, an anonymous source at West's record label Island Def Jam said the Power singer was "strongly urged" to drop the cover.
The snitch said West "was told if he wanted to do it, the label would stand behind him."
Translation: We've been publicity punk'd.
My Beautiful Dark Twisted Fantasy is scheduled for release on November 22.
So, what do you think about West's album cover? Love it or shove it?
Whip My Hair mash-up
Willow Smith's debut single Whip My Hair has been given the mash-up treatment, courtesy of those trend-sniffing puppet masters over on Sesame Street.
Check out the mash-up, and the 9-year-old's official video for the single, below:
And the Official Whip My Hair video:
Mel's Hangover cure?
Mel Gibson has found a cure for his PR headache: A cameo in the sequel to the comedy hit The Hangover.
"It's a done deal," a source told New York Post gossip column Page Six. "Mel will make a cameo as a tattoo artist."
The source adds: "Filming is taking place on the Warner Bros lot, where a Bangkok set has been built, and Mel is expected to film his role in two weeks. Then the production moves to Thailand at the end of October."
Well it worked for Mike Tyson...but can we forgive 'anger-challenged' Mel?
Too soon?
Dirty job
Dirty Jobs host Mike Rowe has seen it all on his hit TV series, but 'manscaping's got to be a first for the have-a-go hero?
In his show's new season opener, debuting October 19 on Discovery, Rowe gets to grips with 'manscaping' his mate and lead cameraman Dave Barsky's hairy chest.
Waxing lyrical (pun intended) about the new series to People.com, Rowe explains the process of culling his mate's manrug.
"The viewer will have an up close and undeniable understanding of what it's like to have the hair removed from your chest if you're a 40-year-old dude," he said.
"You learn some stuff - and most importantly I get the chance to forcibly remove some hair from my friend's nipples."
Ooh, sounds like fun! Watch and wince as the deforestation unfolds...
'If you eat junk, you'll look like junk'
Ay-up! Here comes another nugget of wisdom from TV matriarch and former Dynasty star Joan Collins.
Not content with whacking Jennifer Aniston with the ugly stick - she branded the erstwhile Friends star "cute, but not beautiful" in an interview last week - she's now having a pop at our eating habits.
Old Joan, 77, thinks we all eat far too much junk food, and says fat people are just plain old greedy.
The gospel according to Joan:
"People eat far too much these days and I'm very aware of the penalties of putting on weight. The other day, I went into a pub with my daughter Tara and they had an All You Can Eat brunch for £4.99. I asked Tara, 'Is that for coffee?' 'No, Mum,' she said. 'It's for the whole thing.' Well the 'whole thing' was a piece of steak, two eggs, chips, tomatoes, sausage, bacon.
"I was horrified! if you eat junk, you'll look like junk. People say, 'It's not my fault I'm fat, it's my glands.' It's not, it's greed."
It's amazing how she's mellowed with age. Love you too, Joan.
Blogger's Briefs
Just in: Freshly-picked gossip bites...
* Tiger Woods exact divorce payout: US$110 Million to Elin
* Pregnant Celine Dion hospitalised as a precaution
* Splitsville for Shia LaBeouf and Carey Mulligan?
* Lance Armstrong is a dad for the fifth time
* Miley Cyrus confronts reckless paparazzi.
* Matt Damon can't believe he's 40 with four kids
* Does Michael J. Fox want another Back To The Future movie? Do we?
* Adam Lambert speaks out for gay teens
* Randy Quaid and wifey blow off judge, earn another arrest warrant

* Eva Longoria attempts rapping in MTV Europe Awards promo
* Tiger Woods 'sex tape' is a fake. Refund please
* Back on? Ronan Keating's estranged wife is back in his arms
And we're done. Check back later in the week for another round, folks.
Blogger Bites Back
* Read more celebrity news and gossip from Myrddin Gwynedd here.