Group Architects: Towards a New Zealand Architecture
, edited by Julia Gatley
Auckland University Press $75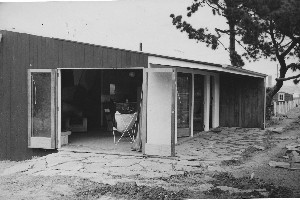 The Group seems inescapable - everywhere and nowhere - when thinking about New Zealand's architectural canon.
So say Paul Walker and Justine Clark, pointing out everything written on New Zealand architecture refers to them, but there is "no single sustained investigation of the Group or of any building they made".
Until now. Enter Group Architects: Towards a New Zealand Architecture, a collection of essays, photographs, plans and drawings about the "most mythologised architects in the country". Not to mention revered. When I was a student of architecture in the 1970s, the merest mention of their name brought on a wave of genuflection.
Group is the story of a series of alliances beginning at Auckland University in 1946, prompted by a bolshie bunch of second-year architecture students convinced there was "no architecture in New Zealand" - a dire situation they were determined to fix.
It was an outrageously arrogant proposition but the mix of architect ego, youthful anti-establishment bravado plus the sweeping ideology of the modern movement was always going to be an unstoppable force.
The context was post-war Auckland and a bohemian subculture, including writers - Rex Fairburn, Maurice Duggan, RAK Mason, Frank Sargeson etc - potters, artists and architects like the venerable Vernon Brown.
Under founder Bill Wilson - acknowledged as the "thinker" who "loved to talk" - The Group were not the first to argue for an architecture peculiar to New Zealand.
"Their audacity in publishing a manifesto as a group of students, and of demonstrating their convictions by building a house with their own hands," say Walker and Clark, "captured the country's architectural imagination."
Did it really? Their buildings, predominantly houses, are confined to Auckland's far-flung suburbs. Some Aucklanders - especially those with a connection to the postwar arts-literati set - will know the houses and some of their creators. Outside that realm, I suspect The Group remain under-appreciated and obscure.
Those new to the notion of this collective entity occupying such "a key place in New Zealand architectural culture" will find in Group a skilfully edited history, rich in detail and nostalgia-laden photographs.
Those who have encountered the houses, the people or the rhetoric before may get more from reading the book back to front.
The later essays are where the mythology and lauding of The Group's achievements - epitomised in David Mitchell's The Elegant Shed - are unpicked. Despite a manifesto demanding "New Zealand must have its own architecture, its own sense of what is beautiful and appropriate to our climate and conditions", Walker and Clark show how little of the ideal was achieved. The "slippery" and "furtive" quality comprising New Zealand architecture remains as elusive as ever.
Andrew Barrie challenges notions of "Japanness" in The Group, arguing that while some houses seem to have a Japanese look and certainly some elements, there is also cultural clash - "elegant shoji-inspired screens often stand as backdrops to overstuffed floral sofas!"
There's an ideological naivety, too. The Group was anti-elitist and had a strongly socialist agenda, aiming to provide efficient low-cost buildings for "the man in the street" but was probably unaware that the design elements appropriated belonged to "Japan's royalty, the aristocracy and the capitalist elite".
If The Group did have outside influences, Barrie suggests they may be more mundane and found closer to home: the handling of sliding doors, verandas and exposed wooden structure is not unlike "a slightly modified Australian 'Queenslander' house". Ouch.
Brenda Vale points out that claims to economy and appropriateness to climate were more illusion than substance. Analysis of The Group's "First House" with its uninsulated walls and roof, shows 66 per cent more energy was needed to heat it than a state house of comparable size.
Were The Group troubled that their houses were likely to be "thermally uncomfortable"? Probably not, says Vale. It's possible they may have considered such things as bourgeois luxuries - "the kind of nice things to which 'nice people' such as the readers of Home and Building might aspire".
Gill Mathewson explores the unquestioning sexism of men in The Group (two of the signatories to the original constitution were women). Its manifesto was before the time of excising sexist language. "Architecture," it said, "can arise only out of the life of Everyman, and without Everyman there can be no architecture." The Group's attack on "the bungalow of the bourgeoisie", she notes, was often an attack on the concerns of women - "matters of tidiness, mess and propriety were considered not important."
The Group's designs also heralded a new conformity - "they thought junk should be weeded out and replaced by a few well-chosen, well-designed pieces". The manifesto was similarly rigid, saying the only way "the sun can bring life without faded carpets" was by not having carpets.
The appraisal of the bourgeois was not particularly nuanced either, missing entirely the critique of some European modernists that single family homes, even if they were open plan and minimalist, were "premised on bourgeois notions of marriage and the enslavement of women".
Which is not to say The Group failed in what it set out to do. Or that it didn't create an inspiring style, even if it was sometimes difficult to locate the elegance in the shed.
Fittingly, Group is a book of two halves. The first is lovingly in awe of The Group's achievements, its economic designs, exposed timber, glazed walls and openings that brought the outside (and the sunshine) in, plus plans that gave new meaning to "open".
The second exposes flaws - a manifesto not always manifest, best intentions gone askew, a dogma and, ultimately, lack of imagination. It's possible The Group, striving for a distinctively New Zealand architecture, laid bare a purity, or paucity, of forms and materials so severe (puritanical even) that the result was designer shelter and little else.
Group Architects exhibition: Gus Fisher Gallery, 74 Shortland St, to November 27; includes archival drawings, photographs, new models, plus art work and furniture by Group member Bruce Rotherham.