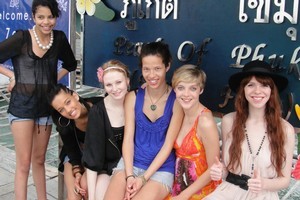 I used to love Enid Blyton's Malory Towers, a series of books about a girl's boarding school full of pillow fights and midnight feasts. The gals were either sensible, jolly and glowing-cheeked or scatterbrained, silly and bothersome. Well, Malory Towers is back, only now it's called New Zealand's Next Top Model, with Sara Tetro as the formidable headmistress and Colin Mathura-Jeffree as the fruity games master. Anyway, it's all just absolutely smashing!
In Friday's episode the six girls, left from the original 14, went to Phuket in Thailand where they are all competing to be head prefect ... oops, top model. Thailand was "super-incredible-awesome-mind-blowing!" until the mean headmistress turned up to remind them they weren't really chums but in a competition with each other for the top prize. "This is not a field trip!"
That was hard for the kindly jolly bunch: Elza, who had just farewelled her twin Nellie ("it was like taking a baby away from its mother") and Courtenay and Michaela, both devout Christians who were rather disturbed by the kickboxing display ("I have never been up close to such aggression".) The trouble-making contingent was made up of Danielle, the tomboy of the dorm, Dakota, the spiteful villainess, and Lara, the spoiled princess.
The Top Model franchise is based on the delightful premise that if you work hard, are cheerful, follow directions, study hard and "take notes", you can become a top model.
I'm willing to bet Kate Moss didn't get where she is today by taking notes. But the self-improvement philosophy that you can simply will yourself to be the next Gisele Bundchen is a captivating conceit and makes the series compelling viewing. It would lose all its narrative power if the nicest girl had to get thrown out just because the judges decided her teeth were too rabbity or her arse, oops "curves", too voluminous.
Adding to the Malory Towers impression is the fact that in this week's challenge the girls had to do a bit of home ec and sew up a quick frock from a piece of Thai silk. Frankly, I can't see Elle Macpherson tacking together a makeshift gown; what next, models crocheting some macaroni cheese? Wouldn't it be more authentic if the girls got to practise throwing phones at minions?
Of course, it goes without saying that the kindly girls - hello trees! hello birds! - make the least interesting television. Thank goodness for Danielle and Dakota: "It is definitely more easy to pose with an elephant than with Dakota," said Danielle. Dakota to Lara: "I think you're the most self-centred bitch. You have the fattest arse and I don't like you." More hot cocoa! Tinkerty tonk!
New Zealand's Next Top Model screens on TV3, Fridays at 7.30pm.
-Herald On Sunday / View