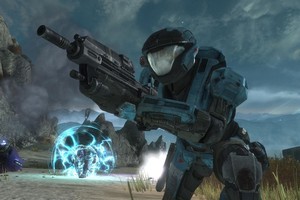 The latest in gaming's biggest sci-fi blockbuster series Halo goes back to the future - and this time it's personal.
It comes with a redesigned game engine, a whole new cast of characters, a vast and entirely customisable range of multiplayer maps and game modes. No wonder it threatens to blow the socks clean off your feet. Halo: Reach is the result of more than a decade's worth of developer Bungie's blood, sweat and tears.
It is also the superstar game-maker's last hurrah before they hand one of gaming's hottest properties over to Microsoft's in-house Halo production team, 343 Industries.
Set 500 years in the future and exclusive to the Xbox 360, Reach delves into the past of the sci-fi series which has driven more than 34 million sales and earned more than $2 billion worldwide since Halo: Combat Evolved became the must-own title for owners of the original Xbox in 2001.
Behind closed doors, campaign lead designer Chris Opdahl and multiplayer producer David Allen took TimeOut through three hours of Reach's features.
"Reach really is 10 years of us trying to make the ultimate Halo game," says Allen.
"Anything a fan could want, they can absolutely do with this game, and more than they have ever expected in the past."
In Halo 3, players gained experience only by winning in multiplayer matches and custom armour pieces were only unlocked by gaining masses of experience or completing complex tasks in the campaign and multiplayer modes. In Reach, there is a rewards system which gives players armoury credits simply for playing the game.
"We wanted to make sure the player rewards system served all players, "says Allen. "Not just players who play competitively online."
If reasonably open access to a wide array of Spartan outfits doesn't set a player's salivary glands in action, the drool will be flowing when they see their avatar appear in the campaign mode itself as Reach's central character.
"You're not the Master Chief this time," Opdahl says as the custom character Allen had created only moments before appeared in Reach's opening cinematic.
"You're a new member of the Noble Company, called Noble 6 [and] it is truly who you envision your character as."
Though fans already know the ultimate fate of the titular planet, Reach puts the focus on Noble Team, the six Spartan soldiers who are the first responders to what ultimately becomes an interplanetary war, played out across the five Halo titles released since 2001.
The planet itself is stunning in appearance, thanks to a huge leap forward in the animation and graphics systems. The characters are well-voiced and look gritty and realistic on screen. Reach looks just like a big-budget Hollywood project, which should go some way to comfort fans who were disappointed when a planned Halo spin-off movie produced by Peter Jackson failed to eventuate.
"One of the goals of Reach was to make the planet a place the player could relate to and understand," said Opdahl who added that the introduction of ambient life - including creatures which look like a distant cousin of New Zealand's moa - brought realism to the gaming environment.
Neither Opdahl nor Allen would confirm whether killing a set number of space-moas would net players an achievement award (we're keeping our DMR fully loaded, just in case).
"You'll see these guys a lot in the first few missions as they run around and create a lot of havoc in the combat with the Covenant," Opdahl said.
The map editor known as Forge has returned from Halo 3 with a serious upgrade.
In Forge World, players are given a vast space to work with that includes a towering rock spire, which is a redesigned version of the Ascension map from Halo 2. There is also an indoor arena, cut into the side of a mountain, where players can recreate classic interior maps such as Citadel from Halo 3. Players may gravitate towards an open-air patch of terrain which is a picture-perfect replica of Blood Gulch from the series debut, Halo: CE.
"The big difference is that the terrain all matches Blood Gulch but the bases were actually created entirely in Forge," said Allen. This means players can make improvements to the original design if they want to, and they're able to use the space in any way they like.
Allen said Forge World was created in response to the creativity players showed with the original Forge.
"There were a lot of interesting ways people started using the tools that we hadn't intended. From the way we saw the kinds of tricks they came up with, we used that as inspiration for pushing the Forge forward."
Reach boasts a wide variety of multiplayer modes, including an improved version of Halo 3: ODST's Firefight and other great time-wasters such as Headhunter ("silly fun," according to Allen) and a competitive arena for hardcore players.
Bungie's final Halo offering is definitely the most ambitious. It may also be the best. Grab your needler and jump in.
LOWDOWN
* What: Halo: Reach
* When: Releases Tuesday September 14
* Also: Check nzherald.co.nz/technology from Monday for full reviews of Halo: Reach before its release on Tuesday