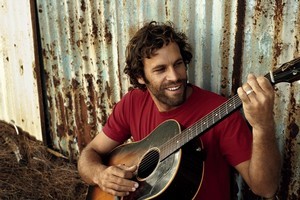 Jack Johnson's most adventurous album yet is a heartfelt tribute to his late father, the man who introduced him to the sea.
Jack Johnson's dad never liked a moper. And he certainly never gave Jack and his two older brothers the chance to sit around and brood because their Hawaiian surf champ father always had them out catching waves.
So when it came time for Johnson to record his fifth album, To the Sea, a reflective and sentimental record dedicated to his father, Jeff, who died last year, he wanted to make it celebratory rather than mournful.
"Dad was definitely somebody who never liked people sitting round and moping," he laughs fondly on the phone from Tampa, Florida, where he's playing as part of the 2010 world tour that brings him back to New Zealand in November and December.
Johnson and his family watched Jeff's health deteriorate over a long period, and when he finally passed away in August "all these songs started coming".
Also around this time, and on a happier note, Johnson and his wife, Kim, who's his college sweetheart, had their third child.
"So even though it was tough it was actually a lot more about celebrating someone's life than it was mourning."
He also went about reflecting on the best stories he had about his dad - and, he says rather grandly for someone so laid-back, "the mythological proportions of these stories in my own mind".
"You know, like him sailing across the ocean to get to our home in Hawaii."
The title track is a heartfelt tribute to his father's influence on his life, and the part he played in making him the man he is today.
In the song, he says, the sea represents the subconscious "and this whole idea of looking within and trying to learn more about yourself".
"That body of water in my life was the ocean and my dad would go out and surf everyday and it wasn't like he had to pull us in, it was just that we wanted to follow in his footsteps and dive in."
It's a family tradition that the surf-folk-rock singer-songwriter and film-maker is carrying on today with his two boys and his little girl.
"The ocean is a special place for our family and the name of the album comes from the idea of a spirit travelling through a family."
To the Sea, his fifth album in less than 10 years, is his best yet. It's also the most adventurous Johnson has been to date; he uses melodica on No Good With Faces, The Upsetter has a psychedelic and trippy mood, and first single, You And Your Heart, starts off raw and fractured (although it soon settles into a typically loping laid-back groove).
He's moved on from the gently lilting acoustic singer-songwriter tracks like Fortunate Fool and Flake that he made his name with on 2001 debut Brushfire Fairytales, which sold more than 100,000 copies in New Zealand.
"The first album I was travelling doing surf movies and stuff, so I always had an acoustic guitar with me, so all the songs existed in a guitar and voice version, and when it came time to make the album, we hardly added anything.
"And with every record we slowly started adding things. But this one I think the studio was a living thing too, and when we first built it [Mango Tree Studio], all I had in there were two or three acoustic guitars and a drum set. It was sparse. But this time we stretched out and experimented."
On the current tour Johnson and his band - a solid line-up since the mid 2000s, made up of bassist Merlo Podlewski, pianist Zach Gill, and drummer Adam Topol - play songs predominantly off 2005's In Between Dreams and To the Sea.
"We try to play something off every album each night but for some reason this album and In Between Dreams are easy to share. They are both about family and both of them deal with losing life and inviting new life into the world. So they're more social, whereas some of the albums are a little more inward."
Albums like Sleep Through the Static, his difficult last one, recorded, he says, during a sad and difficult time. "With that one I was losing a really close friend at the time, he was 20 years old and he was just too young, and it was really hard to watch his family go through it."
Because of Johnson's mellow music, and his even more mellow manner, it's often easy to forget how big he is on the music scene. He packed out the 23,000-capacity O2 arena in London in June, the tour before that he played Hyde Park, and he plays three shows in New Zealand including Vector Arena.
He believes the turning point in popularity happened around In Between Dreams but since then he has made a conscious decision to cut back on interviews and promotion.
"To be honest, back then I had no kids, so it was easier to do," he laughs.
These days his family are on the road with him 90 per cent of the time.
"I feel lucky. When I'm home I have a lot of time with the kids, and then on tour it's a nice way for our family to do a road trip and see places. It works out pretty well."
LOWDOWN
* Who: Jack Johnson
* Playing: Bowl of Brooklands, New Plymouth, Nov 28; Vector Arena, Auckland, Dec 2.
* New album: To The Sea, out now
* Past albums: Brushfire Fairytales (2001); On and On (2003); In Between Dreams (2005); Sleep Through the Static (2008). See also soundtrack Sing-A-Longs and Lullabies for the Film Curious George (2006).
JACK AT THE MOVIES
* He's best known as a singer-songwriter, but in surfing circles Jack Johnson is also a handy film-maker.
* While his own professional surfing career was brief, following an injury in his late teens, it didn't stop him from documenting the world's best surfers doing their thing around the world in surf films like Thicker Than Water (featuring Kelly Slater), The September Sessions (starring Slater and Johnson on a surfing trip to Sumatra), and A Brokendown Melody (which takes Johnson's surfer mates through South America, Polynesia and Jamaica).
* Johnson also contributes and compiles the soundtracks to the films which are released on his Brushfire Records label.
* Meanwhile, it's not quite surfing, but Johnson's soundtrack album, Sing-A-Longs and Lullabies for the Film Curious George, that he recorded with friends like Ben Harper, is his biggest selling album worldwide due to the popularity of 2006 film Curious George.