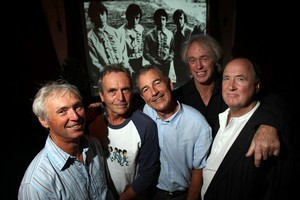 The Fourmyula, whose song Nature was voted the greatest New Zealand pop song ever, will be inducted into the New Zealand Music Hall of Fame at this Wednesday's APRA Silver Scroll awards.
The band formed 43 years ago in Upper Hutt, and released five albums over their four-year existence. Ten of their fourteen singles made the New Zealand top 20, and they won New Zealand Entertainers of the Year in 1970.
Wayne Mason won the 1970 APRA Silver Scroll Awards for Nature.
"These guys were ground breaking New Zealand songwriters who proudly penned New Zealand music for an audience that didn't believe that was possible" says head of APRA Anthony Healey.
"It's our absolute privilege to pay tribute to such an innovative and important group of musicians."
The Fourmyula reunited for two shows earlier this year.
-Herald Online