"The Situation" from MTV reality show Jersey Shore.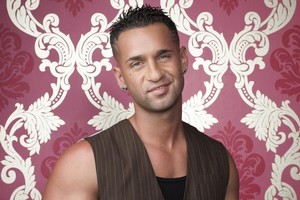 The Situation is a real person who goes by the name of Mike Sorrentino, and he loves nothing better than working out, cooking up a storm, and loving the ladies. This show, which follows the non-stop partying life of eight 20-somethings living together in a house over the summer, should come with a warning. No, not that it's the trashiest show on TV, but that if you watch it once, it is liable to lure you into the trivial, often sordid, and always wild world of The Situation and his mates like Snooki and JWoww.
While the first season was based on the Jersey shore, the second season, which starts on Tuesday at 9.30pm on MTV, moves to South Beach, Florida.
Also, another warning before you read this, do not expect any modesty at all, because The Situation has an ego the size of a Mack truck with biceps to match.
Hey bro. How are you?
I'm always good. You know that.
So hey, what do I call you? Mike? The Situation?
Oh you can call me The Situation.
Or Sit [as in Sitch] is kinda cool. It's short for The Situation.
Hey, well Sit, I watched the first season and it was a hoot. You guys know how to have fun.
You know what, I live life moment by moment, because you only live once, and with no regrets and I just want to have a great time.
Let's take you back a bit. What made you want to be on a show like Jersey Shore?
I guess it was two, maybe three years ago now I lost my job - it was a nine to five job like everybody else - and I didn't know what I was going to do. I thought, 'What have I got?' And I always had an unbelievable body [with] a six-pack and people would always say, 'You've got to do something with that eventually'. And I was 25, you know, so I had to make a move. So I sent my pictures in [to audition] for underwear modelling and then they called me back and said, 'Where have you been?'. Eventually I signed an underwear modelling contract, and I was only doing it for three weeks when I was referred to MTV for the [Jersey Shore] pilot they were doing. It was pretty crazy and it's been like a rocketship ever since.
What is the key to the show's success do you think?
The Situation [laughs]. No, I'm only half way kidding on that. But you know what, it's just a very unique blend of eight individuals who shared very similar backgrounds. We're all very real, and we're not afraid to say what we feel. And it's also a unique style that hadn't really been shown on TV before. You put that all together with ladies, drinking, and partying, and just seeing how young people in their 20s [act]. This is what we do: we work together, we party together, we make mistakes together, and then we learn from them.
Tell us about the second season and the change in location?
Everything was hotter out here - the women, the weather, the beaches - and we just brought our style down here. So it's very similar to Jersey, but obviously very different at the same time, which may not make sense now but once you watch it you will be addicted. There is so much more partying, craziness, make-ups and break-ups, and stuff like that.
Where did you learn to cook, because you seem to do a lot of that?
I come from a traditional Italian family - my mother cooks, my father cooks, my brother cooks. And we love to cook for people and that pretty much comes from being Italian and also the whole idea of family. The only way to share very genuine time with your family is at the dinner table. And I learned that from my family, and I share that with my new family on Jersey Shore in order for us to sit down and really get to know each other.
How has Jersey Shore changed your life then?
It is unbelievable. The name The Situation is everywhere nationally and internationally. Some of the phrases I said have become pop culture trends. And in between the endorsements and sponsorships , and the offers for movies and other shows, it's unbelievable what's going on. And I'm blessed, I shake every hand, and kiss every cheek.
And what has the show set you up for in the future?
I want to make a career out of this. I love the camera and the camera loves me, so I'm going to continue at it.
* Jersey Shore starts on MTV, Tuesday, 9.30pm. Also, starting today is the Jersey Shore Night Out at Event Cinemas which includes recaps of the first season and the premiere of episode one of the new series. Locations and dates are Queen St (Sept 2), Manukau (Sept 3), and Chartwell (Sept 4), all from 7pm.
- TimeOut