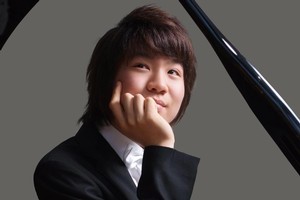 In these times when young people expect immediate rewards for minimal efforts in their musical ventures, the NZSO National Youth Orchestra is a veritable beacon of cultural hope.
The 81 young musicians on the town hall stage on Saturday, by committing themselves to the singular discipline of mastering an orchestral instrument, are to be congratulated for taking a proactive role in the sustaining of a great musical tradition.
Talk had been filtering through from rehearsals about the stimulating vision of conductor Rossen Milanov and it was there for all to experience in Vaughan Williams' Fantasia on a theme by Thomas Tallis.
Milanov drew a remarkably finessed sound from the strings, richly resonant when required and yet not afraid of pianissimos during which one craned forward to hear the whisper of bow on string.
Stravinsky's Concerto for piano and wind instruments was an ambitious choice, and there were some unsettled moments in its brass-laden opening,
Jason Bae, in a tricky score which bubbles all the way to Bach and back, was an imperturbable soloist, generously offering some Prokofiev glitter as encore.
After interval, John Adams' The Chairman Dances, gave many their first taste of a symphonic foxtrot. If the smiling faces, bobbing heads and occasional tapping feet up on stage were anything to go by, this was a hit with the players. And they conveyed this joy in their performance, giving the piece the same energised compulsiveness as a Bolero for our times.
It was left to Rachmaninov's Symphonic Dances to provide the musicians with the full symphonic experience. If this did not quite equal the challenge of last year's Mahler Seventh, Milanov certainly gave his charges a workout to remember. The final pages were death-defying in their sheer bravado, and throughout the work, every section came up trumps with its meticulous attention to detail.
The presence of a young New Zealand composer's voice was missed, especially when Natalie Hunt's Only to the Highest Mountain was the highlight of the NZSO NYO's 2009 visit. However, with Alexandra Hay as the newly-appointed resident composer, prospects for 2011 look cheerier.