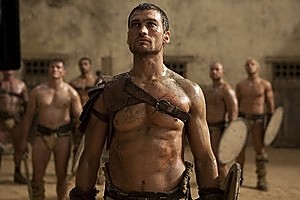 At our house we are fond (far too fond, no doubt) of the sayings of the beyond-dipso old priest Father Jack, from that mad and now ancient but still being repeated sitcom, Father Ted.
We're great admirers of his economical, yet searing, commentary of the things that really matter. Father Jack really only says three things, with varying emphasis, depending on whether he's been at the brandy or the Toilet Duck.
Faced with this week's offerings of bonk television, Father Jack might well have said: "Girls!" or "arse!", or "drink!" Or quite possibly all three.
He would have been wildly over-excited about what Spartacus: Blood and Sand promised: a lot of bonking, and Lucy Lawless. There was some, of both. The bloke on our couch also said he spotted a midget wearing a priapic hat, but when I went to clean the loo later that day we seemed to be right out of Toilet Duck.
Blood there was plenty of, as promised. And what blood! Never has blood made me laugh so much. This is slow motion, cartoon blood, which makes no attempt whatsoever to look like anything other than red paint.
The bonking was slow motion, silly stuff too: like bad panto, or porno, presumably. Not that we'd know, although Father Jack probably would. The lead bloke, Spartacus, is all hair and honed body and played like one of those bad romance novel covers come, almost, to life, by Andy Whitfield from McLeod's Daughters. Still, it's quite a feat to still look pretty when you're covered in red paint.
If you don't know the story of Spartacus it really doesn't matter (and I'm not going to tell you. What do you think this is: a documentary?) All we need to know is that he's a hunky Thracian dude who gets offside with the Romans, in particular, one particularly up himself Roman played by Craig Parker - who does a decent job of petulant even when he's giving his snooty wife one on his precious war maps. (She turned up wearing furs with nothing underneath and said: "Tell me about your little war." The silly bint. He did. He's a terrible war bore so it was a bit of a relief, I can tell you, when she dropped the furs.)
What appalling language those ancient folk used. I started counting the number of the times the C word was used but was distracted looking for the guy in the funny hat. So far it's a bit boring, but now that we've got the back story out of the way - Spartacus' life is spared after he kills a rude word load of gladiators - we can now presumably get on with the sex. If that's your sort of thing.
Sex is certainly the thing in Californication which returned this week for a third season. Writer Hank (David Duchovny) is still down on his luck: he's been reduced to teaching a creative writing course at a university.
As Hank's sexual shenanigans make those Romans look like puritans, there is bound to be trouble. When asked if he's taken the sexual harassment course yet, he says he got his teaching assistant to do it for him. He's already hit on her. Californication really is rude, but its rudeness is as cartoonish as the fighting scenes in Spartacus. I've never heard anything as rude on the television as the sexual fantasies that croak out of the mouth of Sue Collini, the terrifying agent and sexual predator, played by Kathleen Turner with palpable relish.
And Californication is funny, and smart. Hank is hauled into the dean's office to be asked what he said to a kid who tried to kill himself after a student-teacher meeting. (He had told him to give up writing after the kid said his appalling vampire story, about a young male vampire with a crush on an older male vampire, was "a metaphor" for how he felt about Hank.) "This is no time to be glib, Hank," said the dean.
"How," said Hank, "can you be sure?" He was stoned out of his tree at the time. He often is.
Of this week's two shows, both have girls. One is, so far, mostly arse. The other is really glib, which, in our house, qualifies it as worth raising a glass to.
-TimeOut