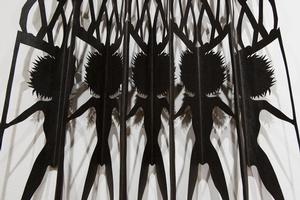 Concept, colour, rococo, splash, traditional patterns - Auckland offers all these varied tastes in style this week. If your taste is for cool, minimalist, geometric painting with a little extra spin, the work of Matt Henry at Starkwhite will suit you exactly. These paintings, for the most part acrylic on linen, are spaced chastely around the white walls. They are all rectangular and are sometimes no more than beautiful linen canvas with a gentle coat of varnish.
Such minimalist work, once outrageous, is now academic and lost its power to surprise way back in the last century. To work now it has to embody some special concept. The conceptual frisson about the cool works is that they are based on kitchen appliances. They are the abstract essence of washing machine, dryer and fridge and several televisions from the sitting room.
To emphasise their prosaic origins they are mounted almost at floor level throughout the gallery, except for one small red work, which may have been inspired by a switch or a fire alarm, and some little Formica boxes from the bathroom.
Generally the paintings have even, immaculate, white surfaces. The low positioning suggests the placing of such furniture and, because we can see the edges of the works, makes us aware that although the starting point may be an appliance, these are independent abstract paintings with qualities of their own. The quality, as paintings, lies in the surfaces.
Two rectangles, green over black, are a TV that is switched on. On another wall there is a TV, grey over black. It is switched off. Two white rectangles like the two doors of some refrigerators have a little kick board shape at the bottom to give them a lift.
Both the low hanging and the concept are innovatory. Why should not washing machines inspire still life as much as fruit does? But the whole ensemble, especially the bare canvases, are so visually puritanical and rarefied that their immaculate nature excludes stain or chip and denies anything like an emotional response.
Australian artist John Nixon at the Sue Crockford Gallery has had several exhibitions here. He also works in geometric abstraction.
This show is organised around the triangle, the square and the circle. These are placed on small fields and stripes of colour and energise the colour harmonies or sometimes add a dissonant note. The works are done in enamel, usually with the clean, sharp edges that masking tape confers though their surfaces show brushwork when needed.
The effect is small-group jazzy. The colours chime against each other. There are progressions sometimes from one shape on the colour to two shapes on the next and three shapes on the third. The five paintings have the quality of skilled improvisation.
Each work is made up of two panels. The work called 1A/1B is notable for progressions from left to right while by contrast 4A/4B has a sonorous silver centre. The work is not startling or new in concept but it is very lively and colourful, and has an appealing element of joyousness.
The immediate effect of the work at Orexart Gallery by Myah Flynn is a response to her use of colour, mainly to an orchestra of violent reds. These have no geometric confines but scoop, twist, turn and billow like technicolour clouds. The paint is lively and involving. There is plenty of attack and the works are chaotically colourful even seen at the whole length of the gallery.
Yet there is more to them than masses of colour vigorously applied. Though the style is consistent, each one creates a different realm. When the viewer comes closer the clouds resolve themselves into shapes, which in a painting like Scorpis Veneris are visceral, embryonic and falling through the sky. In other works like Virtuosa they obscurely suggest fauns or horses. Close inspection of paintings such as Guilty Pleasure reveals female faces, queenly or desperate.
One work breaks the prevailing joyous rococo twists and turns and the vivid colour. Necropolis is dark, green and gloomy. Yet it is painted with no less direct assurance than the other large works. For a young painter Flynn has established an individual, instantly recognisable style that at first seems the result of a naive enthusiasm but reveals layers of meaning that have the potential to deepen the impact of the work.
Several exhibitions celebrate the special time of Matariki. The most immediately accessible is the work of Lonnie Hutchinson at Artstation.
The work makes use of blackness that has been a feature of Maori art, notably of course in the work of Ralph Hotere. He created a work that used tall pillars of corrugated iron, enamelled deep black. Hutchinson's work also runs from floor to ceiling and consists of cutouts done with astonishing repetitive exactness from tough black building paper.
The repeated motifs are highly stylised kowhaiwhai. Although they resemble wall and rafter patterns they stand upright and strong against the wall like columns except for one piece where the intricacy of the pattern weakens it and makes it taper at the bottom. Two of them are interrupted by silhouettes of female shapes linked by their hands. These specifically link the installation to traditional women's work and decoration.
For all their strength there is a delicate play of light and shadow through the work and on the wall. The ceremonial nature of these works is emphasised by a red strip of powder across the floor that sets them apart from the everyday world and evokes in viewers the feeling that if they step over it they are entering a temple space where all patterns and motives carry meaning. It is an extraordinary contribution to the traditional festival.
For gallery listings, see nzherald.co.nz/go/artlistings.
AT THE GALLERIES
What: Contraflow by Matt Henry
Where and when: Starkwhite, 510 Karangahape Rd, to July 17
TJ says: Household appliances sublimated to minimalist abstract art with cool, immaculate surfaces.
What: EPW: Polychrome by John Nixon
Where and when: Sue Crockford Gallery, 2 Queen St, to July 17
TJ says: Geometrical abstraction done with a lively sense of colour and jazzy intervals.
What: Virtuosa by Myah Flynn
Where and when: Orexart, Upper Khartoum Place, to July 10
TJ says: Brightly coloured, flamboyant dreamscapes with small figures lost in the clouds.
What: Black Sunrise by Lonnie Hutchinson
Where and when: Artstation, 1 Ponsonby Rd, to July 10
TJ says: Tall columns of intricate patterns precisely cut from tough black paper create a ceremonial atmosphere related to women and Maori tradition.