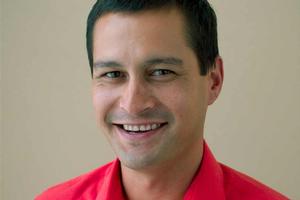 I finally got my hands on the elusive little bugger. It has taken more than four years of looking and waiting, but on Saturday I came across a vinyl copy of Crazy?Yes!Dumb?No! by those scrawny little Mint Chicks. Woohoo.
Excuse me for making an inanimate object sound like a human, it's just that the album means a lot to me and I've been longing for a copy on beloved black vinyl since it was released back in 2006. It is, by my reckoning anyway, the best New Zealand album of the 2000s.
Until last weekend I thought it wasn't available on wax. But I had a few hours to myself on Saturday afternoon - a rarity when my little girl's mum is away, and I'm a solo dad for the weekend. But her aunty, uncle and cousin took her to the playground which meant I had time to trundle off to the record shop for an hour of record-flipping bliss.
Wandering around Real Groovy in a daze, I strolled up to the Ms in the alternative section - a daunting place to start because a lot of band names start with M. Within a matter of four or five flips I was fist-punching on the inside, trying to hide my delight.
I didn't want to call too much attention to myself, because record hunters are typically cool, calm and collected types (some might say earnest). Yet I did manage to let out a quietly chuffed "Cool" when I spotted the distinctive rainbow-coloured hills, green bull, and skeleton man, on the cover drawn by Mint Chick Ruban Nielson.
When you do find a record you've been looking for there's nothing better than that silent, stoked celebration. And besides, you can always brag about it later.
However, after a little research and asking round on Monday, it turns out my right to brag is not as strong as I thought.
Put it this way: I should have looked a little harder and been a more hardcore and resourceful record collector. You see, Crazy?Yes!Dumb?No! has been around on vinyl for a while now.
The band's US record label, Milan Records, released Crazy?Yes!Dumb?No! in October 2007 - the Mint Chicks first album release in America - and it came out on all formats. It's just that it hadn't shown up in New Zealand en masse, and the band's local label Flying Nun (until late last year owned by Warner Music), didn't press it on vinyl.
Real Groovy told me they get it in "when we can", which translates to when it's available through its US distributor and that's why it has only turned up intermittently in New Zealand over the past couple of years. So it turns out I could have bought it on the internet after all and put my aching heart at ease. Still, I wouldn't trade the feeling of finding it in the bins last weekend for anything.
And whatever the format, it's still a fun and fiery album. But when the dirge and churn of Ockham's Razor, or the flutter and shuffle of Crazy?Yes!Dumb?No! kicks in, it sounds so much better with the gentle crackle and warmth of the needle on the record.
The Mint Chicks' old label, Flying Nun, had nothing to do with this release, but since founder Roger Shepherd bought it back off Warner late last year, vinyl is very much a priority for upcoming releases. Grayson Gilmour's new album, No Constellation, and Die!Die!Die!'s Form (out July 19), are both coming out on record, and best of all, the label plans to start releasing vinyl reissues of its vast back catalogue soon.
I'm putting my top five order in now: The 3Ds - Hellzapoppin', Straitjacket Fits - Melt, Skeptics - Amalgam, Bailter Space - Thermos, and The Gordons - The Gordons will sit very nicely alongside the Mint Chicks, thank you very much.