Pieter Symonds is relishing the drama of Carmen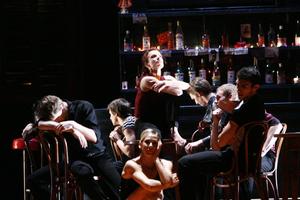 Becoming Carmen," says Pieter Symonds, guest artist in the Royal New Zealand Ballet's season of Didy Veldman's dance theatre version of the famous story, "has been a nightmare."
A former star of the RNZB, now living in London and a leading artist with Rambert Dance Company, Symonds was performing with Rambert at Sadlers Wells until May 29. She arrived in Wellington on June 1 and Carmen opened in the capital on June 5. Symonds took to the stage on June 10.
Until then Abigail Boyle and Antonia Hewitt, in the alternate casts, filled the role. Learning the role in total isolation was difficult for Symonds.
"I had a DVD from when I last performed Carmen here in New Zealand in 2002," she says, "and I worked with that at lunchtimes and whenever I had a moment. I did remember little bits here and there - but not a lot. I was just praying that I would get it - and then that they hadn't changed it for this new season."
But they had. "It was inevitable I guess," she says. "The dancers are different. Times change."
After 10 days in the country and just one full rehearsal, Symonds was on. "And loving it. I am such a different person to Carmen. The things she does would scare me to the bone. So it is a real chance to express those different traits," she says.
"It is such a theatrical piece and I am enjoying that, too, because we do much more abstract works with Rambert. In this the dance really tells the story. And it is such a dramatic journey that at the end I find it really hard to remember how I was feeling - how Carmen was feeling - at the beginning. I hope it is like that for the audience, too."
Although the initial long-distance rehearsal period was stressful and strange and the final preparations rushed, Symonds found comfort in recognising familiar qualities in Veldman's choreography.
"Didy was one of Rambert's former stars," she says of the freelance choreographer, who created Carmen for the Northern Ballet Theatre in 1999, "and there are lots of times when I can recognise patterns and influences there. It did help me feel a little more comfortable at the beginning."
Symonds comes originally from Christchurch, trained at the New Zealand School of Dance, and joined the RNZB as a Shell Scholar in 1997, performing in several principal roles including Esmeralda in The Hunchback of Notre Dame, Lucy in Dracula and Lady Capulet in Romeo and Juliet, as well as Carmen during her seven-year tenure. But many will remember her best for her appearance in the Jiri Kylian piece Soldatenmis, made for an all-male cast.
Symonds had just one week to prepare for that epic performance when one of the original dancers was injured. "It was that experience which really made me want to change styles," she says. "I am more suited to contemporary dance than classical ballet."
In 2004 she auditioned for several foreign companies and was about to sign with the Scottish Ballet. "It was just before the RNZB's big British tour, and I got a call from Mark Baldwin [of Rambert] and he asked me if I wanted to join. He had just had a dancer leave, and knew me from his time here for Ihi Frenzy."
Rambert is a small but incredibly versatile company, she says, with a strictly contemporary repertoire. "One moment you can be tumbling around, the next it is pure Cunningham.You have to be strong and you have to have good technique because the work really pushes the physical boundaries. And Mark has gathered together a bunch of dancers with strong, individual personalities on stage."
Symonds made the move just before new criteria for getting work visas were brought in. Today it would be impossible to get a job in Europe without a European passport, she says. That will not be a problem for her in the future, as she is engaged to Englishman Simon Cooper, a former dancer with and now rehearsal director of Rambert.
It is a busy lifestyle in London. Rambert tours for six months of the year, has to perform a high number of shows annually to qualify for funding, keeps nine pieces in the current rep and is constantly developing new works.
Theatres buy what they want for an evening performance, Symonds says, and put together their own programme. So you might do one piece and it's six weeks before it comes up again.
"Then you have a half-hour rehearsal - in between a lot of other things going on - and you're on tomorrow. It keeps you on your toes."
British dancer Chris Hinton-Lewis, who plays the leading male role of Jose to Abigail Boyle's Carmen in an alternative cast, is new to the RNZB.
"I have always dreamed of coming to New Zealand," he says. "I am 30 - nearly 31 years old. I felt like it was now or never. And if I hadn't made the move I would always regret it."
Arriving in time for the Carmen season, in the land of his dreams, has a special resonance for Hinton-Lewis. He was born in Wolverhampton and started ballet classes at age 8 because he was sick of reading The Dandy and Beano while waiting for his little sister.
"My mother was astonished that I wanted to give dancing a go," he says. "At first it was just a better option than waiting in the car. But once I started I really enjoyed it. It was the music that grabbed me and moving to the music. And later I really loved being on stage and showing off ..."
Hinton-Lewis went on to train at the English National Ballet School, then spent 12 months with the Israel Ballet before joining the Northern Ballet Theatre in 2000.
"My first role there, in the corp de ballet, was in Carmen. I was one of the tourists that get mugged," he says. "A decade later I am dancing the lead role in the same work."
He is thoroughly enjoying being in New Zealand and feeling right at home in his new company, which is just as friendly, he says, as the Northern Ballet Theatre was. Some things are a little strange though, he confesses.
"Abigail does a cracking show. But when you are in a new company and have never danced with the girl before and it is all contemporary partnering, and emotional, and she strips your clothes off and you get seduced - then killed in the end. Well, it is full-on."
PERFORMANCE
What: Carmen, with the Royal NZ Ballet
Where and when: Regent on Broadway, Palmerston North, June 29-30; Municipal Theatre, Napier, July 3-4; Aotea Centre, Auckland, July 7-10