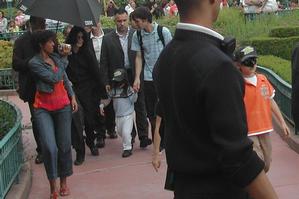 Michael Jackson's children will start school in September - so they can make friends.
The late King of Pop's mother Katherine Jackson - who is the legal guardian of his three kids, Prince Michael, 13, Paris, 12, and eight-year-old Prince Michael II, known as Blanket - has revealed the trio are due to enroll at a new education centre later in the year, to help them befriend youngsters their own ages.
Katherine said: "They don't have any friends. They don't go to school, they have private lessons at home - but that will change in September, when they are due to enroll at private college. But they have their cousins and aunts and uncles around them constantly, and that's helped them immensely.
"To them, it's normal, it's the life they have known. They have a certain time to go to bed, then they get up and get dressed for lessons. They practice karate and swim, which they love."
Michael died on June 25 2009 from acute Propofol intoxication, aged 50.
However, his children provide the Jackson family with continuous memories of the pop star, because they all has personality traits similar to his.
Katherine explained to the Sunday Mirror: "Paris has that lovely way, just like him, and I see his talent in her. Whatever she does, she is very good at it. She's a good artist, she plays the piano and she wants to be an actress. Prince is serious about a lot of things. He wants to be a cameraman or produce movies. He is dedicated to that, like Michael was. And Blanket is very playful, like Michael was."
Katherine, 80, has also revealed her son was so protective of his young children - who he raised alone - he deliberately kept his fame from them for as long as possible - so they wouldn't get 'egos'.
She added: "He said, 'I never told them what I do'. He didn't want them to know... He didn't want them walking around with egos! So when they went to the 30th show, the two little ones were in the audience. Michael got backstage and they said, 'You're a big star! When I grow up, I want to be like you!' Michael said that gave him the biggest chuckle."
- BANG! Showbiz