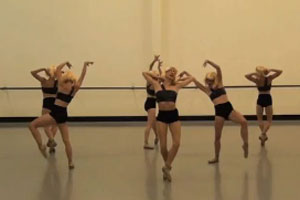 A workshop performance by members of the Royal New Zealand Ballet, set to the tune of Lady Gaga's Bad Romance (Starsmith Remix), has become a YouTube hit since being posted 13 days ago.
Dancer Jaered Glavin choreographed Lady Gaga - The Ballet as a fun project during a choreography workshop.
"I don't think I need to explain where I got my inspiration," Glavin says in an introduction to the ballet on the YouTube clip.
"Although it's a workshop showing I couldn't resist but to put a few costume touches onto it because in my eyes it's illegal to have Lady Gaga in the title and not have costumes."
The dancers had just 12 hours of rehearsal time ahead of the inaugural performance.
By this morning, the YouTube clip of Glavin's "Gaga-ettes" had received more than 52,000 hits.
Lady Gaga - The Ballet
- NZ HERALD STAFF