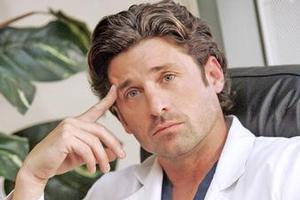 Hollywood reports would have you believe Grey's Anatomy cast members were clinking champagne glasses in celebration of the announcement that Katherine Heigl had finally exited the hit medical drama. But her co-star Patrick Dempsey was far from high-fiving and toasting her departure.
Wearing a dapper blue suit, a must for his new role as chief of surgery at Seattle Grace Hospital, and sporting a tidy, closely cropped haircut, Dempsey, who plays Dr Derek "McDreamy" Shepherd is candid about his sorrow that friend and veteran castmate Heigl has officially left the show despite having 18 months left on her contract. New Zealand fans will see her last episode on Tuesday.
Budding movie star Heigl, whose role as Izzie Stephens had been toned down this season since she amped up public grousing about her role, says she quit to spend more time with her and hubby Josh Kelley's adopted South Korean daughter, Naleigh, who has a congenital heart defect.
"I think there's been three different shows," Dempsey explains, while perched on the back seat of a golf cart outside the Grey's set in Los Angeles.
"There was the original cast, and [then] the departure of Isaiah Washington ended that. Then with T.R. [Knight] going and now with Katie sadly going, it feels like it's been three different types of shows."
Despite all the comings and goings, Dempsey says the cast and crew are "very close" and kept humbled by the fact that at any moment the network could cancel the show.
"I think people are having a great time while we are here. And then everybody is off raising their families, so we don't see them as much, their priorities change.
"We are still very grateful to have a job, especially with everything that's going on in the world and in the economy here, so that helps perspective immensely."
Although parting is such sweet sorrow, Dempsey believes new cast members are already injecting new life and energy to season six, especially Kevin McKidd, who plays Dr Owen Hunt, and Kim Raver, as Dr Teddy Altman, both surgeons returning home from an Iraq tour of duty.
"The new people coming in have added a lot. I think Kim's addition has been really great. I think Kevin does a great job. Kevin's character is important with his struggle and what he's going through. People have connected to the characters and they've invested in them. We've been fortunate enough that no other medical drama has come along to knock us out of the way."
Dempsey is excited about season six and even likes wearing suits now he is "The Chief"; although dressing in scrubs was easier and didn't require wardrobe fittings, he likes the power the suit commands.
But his new haircut is a bone of contention on set.
"I cut it. I got tired of having long hair, so I cut it down," he laughs. "I think they want me to grow it back out."
The family man hasn't decided whether he'll make his bosses happy and grow his locks but he's had no complaints from his wife, Jillian, a former hairdresser-turned-cosmetics queen, or the couple's children, daughter, Talula Fyfe, and their twin boys. His family is priority one, which makes working on Grey's ideal as most of the actors are raising families, too. It means the cast and crew work hard to wrap a day's work early enough to have family dinners and bedtime stories.
"The twins are 3 years old now, so they're a little bit more independent, a little more challenging in different ways. It's hard to believe it's been almost seven or eight years since the start of this whole experience.
"Eric's [Dane] just had his baby so it does change your outlook profoundly."
The overwhelming love Dempsey feels for his brood is helping add intensity to a new storyline with his on-screen wife Dr Meredith Grey (Ellen Pompeo), which has nothing to do with their on-again, off-again past.
"I don't think there was anything left in that we could do," he says about the duo's many break ups and reunions. "I think we tried everything possible. It was nice to move away from that to do something else.
"It's going to be interesting to see where [McDreamy] goes next year because of what's happening to him this year; what his life choices are, how he deals with Meredith not wanting to have a child. Will that bring them together or separate them? Will he continue being the chief or not?"
A lot of unanswered questions from the actor whose blue eyes light up when he explains why this season is a can't-miss.
"It's nice to have the storylines moving forward and we're not playing the same dynamic of are-they-getting-together-or-not, so it's nice to have something new and then the responsibility of the chief and our conflict together is very good. I don't think he likes dealing with all the management and financials and pressures of all of that. I don't think it's his thing at all. I like the direction it's gone this year."
The 44-year-old says the writers have "broken up" what audiences expect from Grey's.
"I think the storytelling has changed a little bit because they take a little more time with each character and get into them a little bit deeper. Everybody gets a little more to do, and what they're doing is different than in the past."
But don't expect to see a traditional white wedding extravaganza between Derek and Meredith.
"They're not a traditional couple in that way. Derek certainly wants to have a child with her and she's not quite ready to do that, so that seems to be where the conflict is."
The set's side exit door is pushed open by a floor manager with several stop watches wound round his neck, announcing Dempsey is needed in five minutes. Before the heart-throb goes back to what he does best, he slips out a season finale teaser.
"It's pretty traumatic in the conclusion," he says, grinning like only someone with a secret others want to know can.
"I don't know how much to give away but it builds to a peak. I'm interested to read the final script but we'll see whose coming back next year."
With a glimmer in his eye indicating he knows more than he is letting on, he is gone.
Grey's Anatomy plays on TV2, Tuesday at 8.30pm.