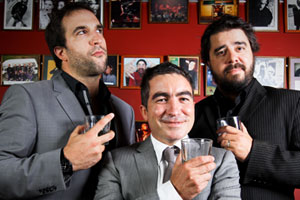 Dubbed the new Comedy Rat-Pack, Billy T Award-winning Dai Henwood, Ben Hurley and Steve Wrigley are now household names, thanks to sell-out shows and TV3 comedy show 7 Days. Thick as thieves, they write and perform for stage, TV, radio and the all-important wealthy corporates. Oh, and Dai's the resident funnyman on C4.
As they gear up to deliver new shows at the 18th NZ International Comedy Festival, View talks to the trio over a beer at Ponsonby bar The Longroom.
Dai: It's like a comedy bar here. That's Brendhan Lovegrove over there. How many New Zealand comedians can you find in a pub at 2 o'clock on a Monday?
View: Did you meet in a pub?
Ben: I met Dai in 1999 on my first episode of Pulp Comedy. That same year, Steve and I were two of the people who got the Wellington Comedy Club on its feet.
View: You all once won the annual Billy T Award for most-promising comedian. How big a deal was that?
Dai: Big. I won seven grand ...
Steve: Damn, it was only five grand by the time I won it.
Dai: Negative inflation. Winning that money in 2002 was the point I decided to quit my bar-manager job and do comedy fulltime.
View: Now here you are, about to perform once more in the NZ International Comedy Festival. How key has it been to lifting the profile of Kiwi comedy?
Dai: I liken it to NZ Music Month: at the beginning it was so crucial, but the beautiful thing is New Zealanders have become more accepting of local comedy, as they did with music. The festival's become an institution. Where once you had to usher people towards Kiwi acts this year local comedians have strong ticket sales because they're more well-known through local TV etc.
View: Like you guys on 7 Days.
Ben: That show was like having a couple of beers with your mates. And 2009 was my best year professionally because 7 Days struck a chord with New Zealanders.
Steve: Because it's us making fun of ourselves. Kiwis making fun of Kiwis.
Dai: Previously I was known as the loose guy on C4, so it was lovely moving into more political, topical, fact-based comedy. Someone at a provincial pub gig once came up and quoted back lines from the show.
Ben: Didn't a guy in Taranaki come up to you and say `oh you're the guy who sings about clocks'?
Dai: Yeah, because of Time After Time [his signature interpretive-dance track].
Steve: How many times do you reckon you've done Time After Time?
Dai: Around 700.
View: There's more interpretive dance this year?
Dai: Yes, I've always been a physical comedian, plus I love tragic, emotional 80s music. I enjoy interpretive dance, a bit too much. Anyway, my new show is Ideals vs Reality. Your whole life you work towards an ideal situation but the reality's often very different. The reality of my first job as a wedding DJ in Lower Hutt, and of turning 30. Two years in, the reality is I'm sitting at home, having a beer, listening to MySky. And ideally I'd be a taller man ...
View: I hear you've found a fiancee who's shorter than you?
Dai: It took me 29 years. I once went out with a girl a foot-and-a-half taller than me, and we were both from Palmerston North, so that was the most mockery I've had in my life.
View: Were you all funny kids?
Ben: Everyone's funny, aren't they? People just grow up and get jobs, and we didn't.
Dai: I disagree. Some people aren't funny, they just think they're funny.
Steve: Why are you looking at me when you say that? As a kid, I was a rejected larrikin.
Ben: You were a Christian - you can't be a Christian larrikin.
View: Still a Christian?
Steve: No ... oh, are my parents reading this? No. In my gigs I tell philosophical stories about taking drugs and not being a Christian anymore.
View: What's your new show @wrigglemania about?
Steve: What we're like as Kiwis and how we're becoming Americanised - look at what we do on TV. We're so Americanised I'm marrying one. I've been in a long-distance relationship for six years. She moved here in August.
Ben: She's here from Russia now.
Steve: She was very expensive.
Ben: You couldn't decide, Russia or the Philippines.
View: You sound like a comedy skit. Do you know good material as soon as you see it?
Dai: Nah, you'll think a premise or a story's going to be really funny, but it's not, and the boring guy next to you on the plane ends up being a great gag.
Steve: The harder I work on a joke, the less funny it is. The funniest stuff just comes out of my mouth on the night.
View: Ben, what's your show Ultra-Mega Alright about?
Ben: It's about how understated New Zealanders are. Whenever you ask how they are, whether they're having the best day of their lives or the worst, they say `oh, I'm alright'.
View: But comedians can't make a living from stand-up alone?
Dai: No, we all have to do corporate gigs. I just did Dick ... oh, haha guys ... I just did Dick Smith parties. Corporate gigs are a juxtaposition to stand-up, because stand-up's all about freedom of speech, but no one wants to laugh at dodgy stuff in front of their boss. So becoming a good corporate comedian is a learned skill.
Steve: It's about testing boundaries; gauging the crowd.
View: Greatest comic influences?
Dai: Robin Williams and Eddie Murphy.
Ben: Billy Connolly and [Jerry] Seinfeld.
Steve: I've always been a big Eddie Izzard fan.
Ben: He dresses like a woman.
Steve: He doesn't dress like a woman anymore.
Dai: Right, I've got to go. I'm off to America to interview Sally Jessy Raphael, Kris Kross, and Tiffany. The cutting edge of 80s entertainment.
View: One last question. Have we got over the whole New Zealanders-aren't-funny thing? Was there ever such a thing?
Ben: I think there were literally 10 people who thought New Zealanders weren't funny and they happened to say so. Not anymore.
Comedic trio
Ben Hurley in Ultra Mega Alright in Auckland, April 27-May 1 at 7pm; and in Wellington, May 12-15, 10pm.
Dai Henwood in Ideals vs Reality in Auckland, May 11-15, 7pm; Wellington May 4-8, 8.30pm.
Steve Wrigley in @wrigglemania in Auckland from April 27-May 1, 8.30pm; Wellington May 4-8, 8.30pm.
Ben Hurley and Dai Henwood are in The Best Of The Billys show on May 1.
The NZ International Comedy Festival runs Auckland and Wellington shows from April 23 - May 16, plus there's a nationwide comedy convoy. Sold-out smorgasbord The Cadbury Crunchie Comedy Gala screens on TV3, Wednesday April 28, 8.30pm. 7 Days returns next month.