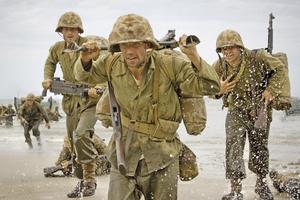 Most of war seems to consist of waiting around being nauseous with fear amid a lot of mud and mumbling. Even when there is battle it is a frenzy of shouting and shooting and confusion which makes the action hard to follow when depicted on screen. All the men always seem to have mud on their faces, so if you're not too sure about characters, you can't tell who is who. Thus it seems that if you are going to make war realistic on screen, you have to ask your viewers to put up with a boring bit to start with.
The makers of The Pacific, which debuts tomorrow on TV One, are okay with this. As the sort-of-sequel to Band of Brothers, Pacific is putting us under a wee bit of moral obligation. Somehow switching off the 10-part HBO miniseries feels like letting down our brave veterans. Sorry guys, you witnessed appalling atrocities and endured unimaginable terror on our behalf, but I couldn't be bothered sticking with you through the slow-moving opening episode of your heroic story. But hang in there. The Pacific is powerful and brutal and brilliant. But, just like the members of the 1st Marines, you will have to do a bit of waiting around first.
It's worth it, even if you are a girl and don't usually love war stories. Don't shoot me, but for all the gore and guns, The Pacific and Band of Brothers tell the story of World War II from what could be considered a feminine perspective. They are about the people and the emotions, not about the tanks and testosterone and strategy.
As the production unfolds, I am sure we will get to know and care about the central characters Robert Leckie, John Basilone and Eugene Sledge (real-life marines played, respectively, by James Badge Dale, Jon Seda, and Joseph Mazzello.) But in tomorrow's opening episode, which focuses on the Americans landing on Guadalcanal, it is hard to even recognise our protagonists.
It is certainly very realistic. When things go wrong in war they don't usually go wrong in the right way - the cinematic, cliched way - but they go wrong in the wrong way. That means something dumb and anticlimactic happens. And this is rendered so authentically that the dialogue can be hard to decipher. This is in stark contrast to the loud and clear words of the veterans who reminisce about the war during each episode. "That was one nasty war, man," says one. "It scares me today and that was 67 years ago. I had no idea it was an important event. The main thing was to stay alive."
Time magazine says The Pacific improves on Band of Brothers. I have only seen the first two episodes but I am prepared to concur. And this story is so much closer to us in New Zealand, opening nine months after the bombing of Pearl Harbour when the Japanese were on Australia's - and our - doorstep. Turn on your TV and standby for action. Just be patient. War is like that.
* The Pacific debuts on TV One tomorrow at 8.30pm. A re-enactment of a World War II dogfight in honour of the epic will be held above Mission Bay beach, Auckland, from 1pm today.