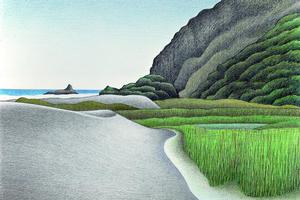 Any relationship lasting 50 years and counting is worth documenting in some way. Even if it's one that can leave you feeling alone and puny.
Artist, former Elam lecturer and bird lover Don Binney first fell in love with Auckland's wild west coast as a schoolboy. Instead of running around capturing his favourite spots with a box brownie, he took to drawing them. Five decades on, it's a rare spot that hasn't been committed to one of his sheets of art paper.
Examples of this work now feature in almost every notable art collection in the country and a goodly number of those offshore.
But his latest book, Drawing the Waitakere Coast, is much more than a collection of place-specific impressions, it's a commentated journey that walks us from the North Head of the Manukau harbour to the banks of the Waitakere River. It's feels like a solo journey because apart from the odd bach, his drawings give no suggestion that anyone else is present aside from the viewer.
Maybe that's because, as Binney says himself, coasters can all be looking in the same direction, yet each see something completely different. It's a diversity that has pre-occupied him as much as the environment. From the early surfers and hippies, he's seen the arrival of the real estate chasers and leisure seekers, while sitting somewhere in between are the full-timers, the families with long-term connections.
"They are the real nitty-gritty," says Binney, "and I have real respect for them. They may not seem to cut any image at all, but they hold the nest together and keep the eggs warm ... So, while I'd say that everyone who lives out there is there because they are passionate about something, they sing from multiple hymn sheets. If you think they are unanimous about anything, you're fooling yourself and that is something I had to consider while writing. It's a lesson I've learned the hard way."
For his part, Binney considers himself an itinerant coaster. From those early days as a seasonal migrant, he went on to be a renter and then occasional owner, interspersed by spells at Fisher Lodge, a now abandoned jerry-built structure that had been gifted for the use of Elam art students. He is also a founding - and ongoing - member of the Waitakere Ranges Protection Society.
"As a result, I have quite strong views about the environmental and aesthetic properties of the whole area and the book addresses those, not in a sort of vehement, overstressed or agitated way, but with the resolve of 50 years' worth of dedicated engagement."
Drawing The Waitakere Coast by Don Binney (Random House, $45) is published on April 1.