Rating: 5/5
Verdict: Funny, heartbreaking, wonderful.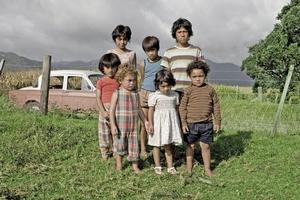 Taika Waititi calls this his first feature, even though it arrives after the lovably deadpan Eagle vs Shark. It's not hard to see why. It develops ideas first broached in his Oscar-nominated short film Two Cars, One Night but, more importantly, it is plainly a portrait painted from the artist's own childhood experience. There's plenty that's playful in Boy - indeed its opening half hour is often falling-down funny - but there's pain, too. It may seem slight, but this is a film of mighty heart.
It's set in the Eastern Bay of Plenty, where Waititi grew up (the two most striking locations are the Raukokore River mouth and Waihau Bay), and it fairly hums with the director's ambivalent affection for the place. The title character (Rolleston) is the eldest in a family of kids who, for reasons that will become obvious, are being raised by their grandmother. When she hops in the Humber 80 and heads off to a distant tangi, Boy is left in charge.
Night has barely fallen when a man arrives whom Boy has never met - his father.
Alamein (Waititi) is just out of the slammer and he's come home on a very specific mission. It's not to see Boy or his brother Rocky (Eketone-Whitu), who is carrying his own burden from the past, but it takes the boys some time to realise that.
Alamein's absence has created the space for Boy to idealise his dad - as a war hero, a diver, even a relation of Boy's hero, Michael Jackson - and the film tracks the process by which he comes to terms with the reality that Dad's a drug-addled loser who's notably less mature than his 11-year-old son.
It's hard to praise too highly the pitch-perfect tone of this movie. The opening half hour is rich in self-deprecating and subtly anarchic humour ("Not crayfish, again," whine the little ones when he plonks dinner on the table). But like the clown who hides his sorrow with a smile, the filmmaker is softening us up for the main story.
Boy's coming of age is a heartbreaking loss of innocence, and in charting the shifting relationship between absent father and adoring son, Waititi unerringly fingers a great malaise of recent generations.
It sounds grim, but the film has an extraordinary lightness of touch, which illuminates a sobering story with a sense of sunny hope. That quality is all of a piece with its distinctively Maori voice: a small urupa (graveyard) is a key part of the narrative and Shortland's character, a local loon who is both tohunga and taniwha, is a benign guiding influence.
The three main performances are knockout as well, intense yet effortless and all perfectly matched. This is a very strong piece of work that will quickly become a classic.
Cast: James Rolleston, Te Aho Eketone-Whitu, Taika Waititi, Waihoroi Shortland, Rachel House
Director: Taika Waititi
Running time: 88 mins
Rating: M (drug use, offensive language)