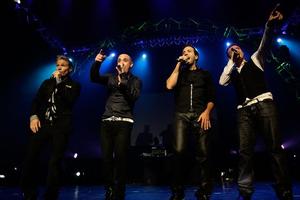 Nick Carter gave his best blue steel gaze and surveyed the crowd as though he was waiting for the knickers to start flying.
Then he winked and tossed a red rose (sans thorns?) into the sea of out-stretched arms.
It was a gloriously camp boy band moment, one of many during the Backstreet Boys' fun first show in New Zealand in their 17 years together.
They also serenaded on stools, spun around their mic stands, flirted with the girls in the front row, leapt over the DJ booth and danced up a jazz-hands storm. Rock your body? Yeeah.
Now in their 30s, some of them shacked up with wives and kids, and the charismatic AJ McLean now sporting a touch of middle-aged spread, it was always going to be a test to see if the Boys still had pulling power.
But judging by the surging estrogen levels whenever Howie Dorough or Brian Littrell addressed the crowd, Auckland was more than willing to relive the 90s.
For the full 90 minutes the Boys pulled out hit after cheesy pop hit: Shape of My Heart, I'll Never Break Your Heart, Quit Playing Games (With My Heart), Straight Through My Heart, (the latter from new album This is Us.)
This was no fancy visual fandango the likes of which can be expected of Lady Gaga this weekend.
The set appeared to have come with them from the 90s, consisting of not much more than a big screen flashing youthful images of their heyday, and multi-tiered platforms for their PVC-clad female back-up dancers to writhe on.
The band still rely on their old stable of choreographed white-man manoeuvres: it's raining on my face, the lawn mower, side-scissor robot shuffle – and Carter's fans' favourite, slowly-remove-jacket-to-show-off-newly-sculpted-arms.
Seriously, you could hardly recognise the guy. Smarmy though he was, his voice soared on ballads such as Incomplete.
His bandmates, minus Kevin Richardson who left in 2006, looked genuinely excited to get such a great reception, and despite some early tuning issues, won over the crowd with some decent harmonising on Show Me The Meaning and proved backstreet's back alright on the night's biggest singalongs, Larger Than Life and I Want it That Way.
Where: Vector Arena