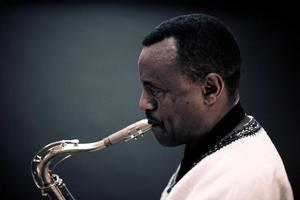 The name Nick Page might not be as well-known as Paul Simon, Damon Albarn or Ry Cooder. But the British music producer, who was best known as one of the main players in world fusion dance band Transglobal Underground from the early 90s, has a similar intrepid spirit when it comes to discovering music from around the world.
While Simon went to South Africa to record 1986's Graceland, and Albarn travelled to Mali, with Cooder making world-wide stars of the Cuban players of Buena Vista Social Club, Page went to Ethiopia.
He was drawn to Ethiopian music after listening to the Ethiopiques compilations in the late 90s and early 2000s, a music series released by Frenchman Francis Falceto.
"I got very excited because there was something fresh about it, yet it was old but felt slightly new, and it had a Middle Eastern flavour which has a lot to do with Yemen being across the water from Ethiopia. It was exciting because it wasn't what I had come to expect from Africa."
But he admits getting to the country to experience the music first hand would never have happened without his music-making mate Dan Harper, who lived in the capital Addis Ababa. Harper urged him to pay a visit and in 2006 Page made the sojourn to Addis. He arrived expecting a hot and humid climate. Instead it was rainy season and, to his surprise, it was a high-altitude mountain city.
"It was cold," he laughs. "In fact, all my preconceptions [about Ethiopia] were destroyed within the first 24 hours. It's very thin air there, it's full of diesel pollution, but it's full of eucalyptus trees and it's very green too."
When it came time to record, Page admits he had no master plan - "I made it up as I went along" - although he did envisage the resulting music would be a mix of the "golden age" of Ethiopian music from the early 60s to early 70s, some jazz, and the 70s dub and reggae style similar to that of his favourite band The Abyssinians.
Harper and Page recruited local musicians for the project, including saxophonist Feleke Hailu, and singers Tsedenia Gebremarkos (a pop star in Ethiopia), and Sintayehu "Mimi" Zenebe (a night club owner in Addis who is also known as the Ethiopian Edith Piaf).
Hailu especially has a lot of respect in his home country because his father used to be the main trumpet player for Ethiopian great Mahmoud Ahmed, who also plays Womad this year.
Page recorded at Harper's home studio out the back of his house. He calls these rough-and-ready sessions "urban field recordings" because the songs are riddled with many environmental and background noises.
"There were people washing clothes, kids playing, dogs barking and cats chasing rats under the roof while we were recording," he laughs. From there he took the tapes back to the swanky recording studios of Peter Gabriel's Real World label in Britain, and brought many of the Ethiopian musicians to London to finish off the songs.
Page named the project Dub Colossus - now a fully fledged band that plays Womad next weekend - and the resulting album, In A Town Called Addis, came out in 2008. It's a diverse, magical, and often raw record that moves from the wailing and brassy lope of opener Azmari Dub to stomping centrepiece Shem City Steppers and onto the frenzied finale of Mercato Music, a song inspired by the biggest market place in Africa.
The album also has a unique charm because the difference in quality between some of the tracks, with a song like Shegye Shegitu recorded mostly in Britain sounding pristine, and the chaotic Mercato done in Addis coming across far rougher.
"I don't mind it either way," says Page. "For me it's about continuing a [musical] journey by putting something through a different lense, seeing what happens, and what is the reaction of people to it."
Making the album was not only a musical adventure for Page, but a history lesson, and now he recites much of the ancient and troubled recent past of the country as if he's studied it all his life.
"As far as they are concerned they are people of the Old Testament. It's 3000 years old, so they are not your normal, everyday African people," he says. Then there's the brutal military regime led by Mengistu Haile Mariam that took over the country in 1974 for 20 years when, among other things, the Ethiopian music tradition was stamped out.
"It's still a society where, only a few years ago, it was still dangerous to play anything and show any sort of dissent."
But the Dub Colossus project is doing its bit to take Ethiopian music to a wider international audience. Although, says Page with a wry chuckle, the album has failed to convince some of the purists in Ethiopia.
"Traditionalists in the country don't like the album, but a lot of the young people love it because, while it's not a modern-day Ethiopian hip-hop album, it's someone doing something different that reflects the old and the new. The conservative side don't get it at all though.
"But the big thing is, travel and music together tends to get you asking questions and re-examining what you know and that's one of the important things about music. And, of course, you can dance and enjoy yourself, which is the most important thing of all."
LOWDOWN
Who: Dub Colossus
What: Ethiopia's answer to the Buena Vista Social Club
Album: In A Town Called Addis (2008)
Where & when: Womad, Bowl Of Brooklands, New Plymouth, March 12-14