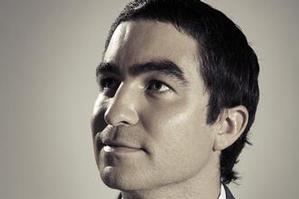 Get your ribs ready for the next round of what promises to be side-splitting comedy shows.
Programmes for the annual comedy festival are hitting the streets this week and point to some fresh faces as well as some of our favourites from last year. Aussie's Chopper Heath Franklin is back after last year's Harden the (expletive) Up NZ show, this time with a set that tackles an even bigger issue than poverty or climate change - eradicating the terminally thick. Carey Marx from Britain is also returning after being named Best Insternational Show at last year's New Zealand International Comedy Festival. He promises to follow the same format this year - counting down the 10 most offensive topics and words traced by stand-up comedians.
Avenue Q, the Broadway musical featuring naked puppets, makes its way to New Zealand after causing a storm over in Australia, and British glam man Julian Clary is also gracing our shows with his glittering presence and a show called Lord of the Mince.
On the local front there's the 7 Days crew - Ben Hurley, Steve Wrigley, Paul Ego, Dai Henwood, Jeremy Corbett and Jeremy Elwood who are perfoming a mix of solo, double and gala shows. Other regulars include Ewen Gilmore, with Super Mayor (expletive) Yeah!, Mike King, who will perform his own show as well as MC the Night of Nutters - a fundraiser for mental illness - Brendan Lovegrove and Irene Pink. New local faces vying for the annual Billy T. Award are Rhys Mathewson, Jarred Fell, Clayton Carrick-Leslie, T.J McDonald and Vaughan King
The festival line-up is not only about humour for mature ears. Two years ago organisers started running clean but fun shows that people of all ages could enjoy. Stand Up for Kids has become quite an event, and some of the biggest local and international names on the comedy circuit have leapt at the chance to show they're more than capable of adapting their material to a younger audience. Another child-friendly show this year comes from Mike Boon, a part-time comic and part-time teacher. His show, Mr. Boon's Big Time Last Chance Kids Show, is suitable for kids aged five and upward and promises to draw laughs from things as silly as his eyebrows, with plenty of sketches thrown into the mix. Finally, not forgetting it's a new decade and we were all supposed to be driving hover-cars by now, the Comedy Festival has also announced it will have its own iPhone application, as a sign of the times. This will deliver festival punters the daily programme, general information about the acts and ticketsand Google maps to show locations.