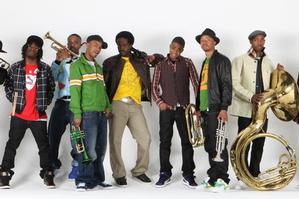 Gabriel Hubert and his seven brothers had little choice about becoming players. "We was born into it. Music is something we've been doing all our life, even before we were born," he says.
"We was," he continues in his long relaxed drawl, "in the bellies of our mothers listening to our parents play so everything that you hear from us is actually coming out of us because it's part of our DNA."
The brothers - who along with drummer Christopher Anderson make up the nine-piece Hypnotic Brass Ensemble - are sons of Chicago jazz man and trumpeter Phil Cohran who made his name playing on cosmic jazz records in the late 50s and early 60s with musical troubadour Sun Ra.
It's this jazz era, and the brothers' love of hip-hop that has the biggest influence on the Hypnotic Brass Ensemble's unique sound.
The spirited and swinging tradition of New Orleans brass bands comes through, too, and other styles as diverse as gypsy, Hindu, and more are thrown into the mix to create a soulful and pumping lather of brass and beats on songs like War, a sauntering hard dance tune, and the Balkan knees up of Rabbit Hop.
Hubert says at home his parents taught them about celestial sound, spiritual music, "and how to tap into people's souls". But once these "classes" were over the brothers had their own time when they would listen to hip-hop acts like N.W.A., Run DMC, and Public Enemy.
"We was heavily engulfed in it, and then inside the house we were also exposed to different music from different cultures: Chinese music, Aboriginal music, African music, gypsy music, and music from Spain and all over the world. They exposed us to music and then as we left the house we went and dealt with everyday life on the south side of Chicago and that's when we got more of a street sense, and the understanding that goes with hip-hop. All of that comes across in the music."
They formed HBE, starting out playing street corners in their hometown neighbourhood on the south side of Chicago in 1999, before moving to New York in 2005.
Hubert, 33, always knew he wanted to play the trumpet because his father played it.
"I remember, as far back as when I was two or three years old, hearing his melodies and listening to the way he played and it always inspired me and caught my attention. So as soon as I was able to play the horn, I wanted a trumpet, and I got one for my fifth birthday, which was nice," he says.
Then there's Tycho Cohran (aka LT), who plays the sousaphone - the curly and loopy version of the tuba used in marching bands. He provides HBE's booming bass lines.
Does it take a special kind of brother to play the sousaphone?
"Well, LT, um, he married the tuba," laughs Hubert. "And he wanted to play the tuba like no one else so he developed a style, so it's almost like Bruce Lee in martial arts deciding to take what he learned and make it his own.
"And we kind of shine a light on that because you don't have too many bands out there where the tuba rides the bass. He's not necessarily playing tuba riffs, but bass riffs. So yeah, he basically turns that tuba into a bass, man."
With this long family tradition of music it's not surprising Hubert truly believes that through their songs the band can touch your soul and make your world a better place.
That might sound over the top, even a little cocky, but that's what he's looking forward to doing when they perform in New Zealand on the opening night of Womad on March 12.
"As we try to touch all continents on the planet, to make Hypnotic a household name, we want to make people more aware of who they are. Because a lot of time you don't find your purpose in life and if we can be like a beacon through our music for them to do that then we will. So when we come to New Zealand we're looking forward to getting in touch and getting to know your community, culture and family.
"Music is a legacy that we have on our shoulders to carry. So it's been with us before we got here and as we grow it continues to grow with us."
They are about to gain wider exposure thanks to their collaboration with Blur frontman Damon Albarn on the latest album, Plastic Beach, by his comic strip band Gorillaz.
"That's gonna be fantastic," he says of the record which the band contribute on, Welcome To the World of Plastic Beach, alongside Snoop Dogg, and Sweepstakes with Mos Def who they have worked with in the past.
They met Albarn through Tony Allen, the Afrobeat drumming pioneer who is in Albarn's other side project The Good, The Bad, and The Queen, whom HBE played a show with at the Tower of London.
They also ended up supporting Blur at the Brit-pop band's reunion show at Hyde Park last year.
"The energy and the chemistry was cool between all of us and we developed a respect for each other's art over the last few years and we ended up in the studio."
Hubert says he more than any of the brothers is the leader of the band, but he's quick to say that all have their say on what the band does and the creative process.
"We grew up together, all learned the business and through all of our blood, sweat and tears we are where we are today. So what we always try to do is say majority rules."
You have to wonder, being a brass band made up of eight brothers, have they ever felt like they were headed into novelty act territory?
"Oh yeah, but the one thing we do to not do that is take inspiration from people who did it on their own. The people who I looked up to were P Diddy, who took control of his life and became successful, and people like Jay Z and 50 Cent, because they are business-savvy people.
"So that, and the fact our father has always been very independent and inspired the likes of Earth Wind and Fire, Curtis Mayfield, and Chaka Khan, back in the day - when you understand that you have a gift, and something that will inspire, you have to cultivate that and invest in it."
So basically, there's no fear of HBE becoming a novelty act, because they're keeping it real.
LOWDOWN
Who: Hypnotic Brass Ensemble
What: A brass band with hip-hop attitude, cosmic jazz roots, and funk and soul flow
Where & when: Womad, Bowl of Brooklands, March 12-14
Albums: Hypnotic Brass Ensemble - Hypnotic Brass Ensemble (2009); Also appear on Gorillaz - Plastic Beach, out March 8.