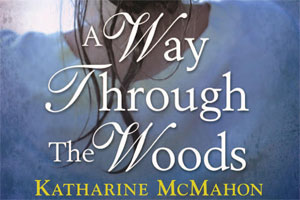 No one is more surprised than Katharine McMahon that she turned out to be a historical novelist. It's not what she intended when she embarked on her literary career 20 years ago. The best-selling author of The Rose of Sebastopol admits her approach to storytelling is "haphazard" rather than methodical. And that's how she's found herself writing about history.
"What generally happens is I get very interested in a story from the past," she explains over the phone from her home in Watford, near London. "And that ends up providing a landscape for the plot. I don't tend to do that with contemporary stories."
McMahon has written novels set during the Crimean War and in 18th-century London society, but the period that's held its sway over her for the longest time are the years just following World War I.
"It's an era I feel I have a foot in," she explains. "My grandfather fought in that war and I can remember three maiden aunts who never married because of it. I think who we are emerged from that war." For women in particular, this was a time of great change and it's their lives that fascinate McMahon most.
"I think there's a place for stories about strong women who have emerged in the past," she says.
As she dips in and out of history, looking for the germ of an idea to inspire her, McMahon often comes across women who did something exceptional.
"But I'm not interested in putting words into the mouths of real historical characters," she explains. "I want to write my own story set against a real and convincing history and I work very hard to get the historical framework right."
Both her most recent best-seller, The Crimson Rooms, and the newly re-released A Way Through The Woods (Orion, $27.99) are about women living in the aftermath of the Great War and, although written 20 years apart, thematically have much in common. They're stories about women trying to find their own way, coming to terms with the new freedoms and choices the postwar era offered them.
McMahon says she doesn't set out to write a feminist message. "But yes I'm a feminist, whatever that means. I believe women should have the same opportunities as men in life but can see it's not an easy path. "Today women have a lot more to face as a result of our freedom and choices." As a teenager, growing up in northwest London, McMahon and her mother used to enjoy reading aloud to one another from the novels of Jane Austen. From an early age she'd decided her path in life was to be either a writer or an actor but, after studying drama, she realised quite quickly she wasn't cut out for acting.
"I don't like competition very much," she explains. "With acting you've got to put yourself out there and I'm not very comfortable with that."
She remains involved with amateur dramatics, however, and says it helps her satisfy both sides of her character.
"Theatre is so alive and immediate. Writing can be sad. I have to work hard to keep the balance."
Her theatrical experiences tend to feed into her writing, as does her part-time job as a magistrate, hearing cases when they first come into court.
"We're dealing with people right at their moment of conflict. So I'm privileged to do it and find it very rewarding," she says.
For years McMahon juggled work with raising a family and her writing career. It hasn't been plain sailing.
Earlier novels were far from best-sellers and when the company that published them folded she says she had a terrible time.
"I was left with a book that hadn't sold and a publisher that didn't exist so I had to start again."
Success finally arrived when The Rose of Sebastopol was chosen by Britain's Richard and Judy's Book Club, which propelled it into the best-seller charts. As a result, her new publishers have now released three earlier books that McMahon has revised, taking out the "purple passages".
"It's lovely to have my back-list published but it's also a bit spooky really," she says. "Like revisiting yourself as you were all those years ago when you first wrote the book."
Next up is another historical novel, this one set during the French Revolution. It will almost certainly centre on a strong woman who is leading an exceptional life but it seems unlikely to be published any time soon.
"I'm 22 pages into it," says McMahon, "and I still haven't got the characters to France yet ..."