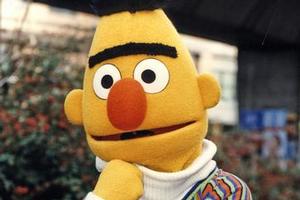 The letter of the day was "H" as in "hug" or "hungry" or even "happy birthday." The number of the day was "40," the exact length of time, in years, that it has been on air. The programme reaching this milestone is, of course, Sesame Street.
Big Bird, Oscar the Grouch, Bert, Ernie and their multicoloured friends entered a fifth decade last week. Their 4187th public outing, more than any other in the history of children's television, was celebrated with an appropriately lofty guest star: Michelle Obama. The booking was, in its own way, a symbol of Sesame Street's extraordinary success.
Founded to help educate American pre-schoolers, especially in the inner cities, the programme has always been as ethnically diverse as the society it would go on to shape. One might argue, at a push, that the first African-American President owes his election to Sesame Street's former viewers. Like generations of celebrity guests, Mrs Obama helped to explain the subtleties of reading, writing and arithmetic to her young audience.
Then, with the help of Big Bird, an enormous ostrich-like creature, she rattled through a valuable life lesson. "Veggies taste so good when they come from the garden, don't they?" a gathering of under-fives were told. "If you eat all these healthy foods, you are going to grow up to be big and strong."
The creator of the White House kitchen garden flexed her famously elegant arms, and added: "Just like me!" Sesame Street has won more than 100 Emmys and has been broadcast in roughly 150 countries. It retains an uncanny ability to both reflect the times, and provide a public service: songs and storytelling to educate its young viewers. It has at times boasted a distinctly subversive edge, not lost on older viewers.
The coming season, for example, features a parody of the modish TV drama series Mad Men called Muppet Men, in which the characters create adverts prompting emotions; happy, mad, sad. Conservative bloggers were moved to outrage recently after it emerged that one episode will see a puppet criticise Rupert Murdoch's "Pox news". In a way, it was ever thus.
When Sesame Street was first developed, in the late 1960s, creators wanted to revolutionise children's television, then dominated by commercially driven cartoons. Joan Ganz Cooney, the new show's executive director, stung by the discovery that cartoons contained an average of 20 violent episodes an hour, was determined Sesame Street would be different. It was funded by a non-profit organisation called the Children's
Television Workshop and the format developed by teams of educationalists and child behavioural specialists. The result, tested on hundreds of children in New York, was an hour long. It had five human hosts, alongside Jim Henson's Muppets, role-play, games, music, short films, cartoons and catchy jingles. Within a week, the public broadcaster PBS had a number one hit on its hands. Big Bird made the cover of Time magazine in 1970. Kermit and Elmo spawned ranges of toys, books, and spin-off shows, inserting themselves into the childhood of 40 years worth of American youngsters.
In recent years Sesame Street has faced challenges. It can sometimes seem at odds with the era of political correctness. The Cookie Monster has been accused of promoting obesity, and sponsorship by McDonald's drew wide criticism. The show still attracts big name guest-stars but is up against competition from newer forms of entertainment. Even the programme's core values have changed. In 1970 it taught racial tolerance, now young viewers hear about the environment or healthy food.
In an episode of the new series a child talks about her mother's yoga class. "I love yoga," she announces. "When I grow up, I want to be a yoga teacher." But the search engine Google included "doodles" of Sesame Street characters on its homepage last week. Proof, perhaps, that in the internet era, the show has what it takes to remain an essential part of the American childhood for decades to come.
Famous faces on their furry friends
Michelle Obama "I never thought I'd be on Sesame Street with Elmo and Big Bird ... It's probably the best thing I've done at the White House."
James Blunt "I always wanted to be a Muppet. So when Sesame Street approached me, I thought:'I'm going to be on this!' It's pretty incredible stuff."
Ricky Gervais "You know you've made it when you get asked to do Sesame Street or sing with a little furry puppet. It's quite weird in a funny way."
Kofi Annan "Elmo and his friends, they tell it straight ... Keep it simple and it brings you back to earth. I think that is very important, we all need that."
- INDEPENDENT