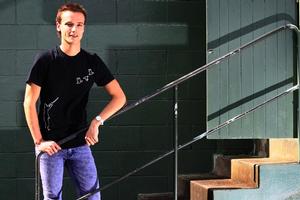 Jesse Peach doesn't think small. While other aspiring directors his age are devising solo or two-hander shows on a shoestring, 25-year-old Peach — a television journalist and former Shortland Street star — is staging big budget plays which would challenge older and more experienced directors: English comedy Billy Liar, Tennessee Williams' The Glass Menagerie, psychological drama Equus, the musical Blood Brothers and home-grown comedy Niu Sila.
He's convinced high-profile veteran performers including George Henare, Annie Whittle and Ray Woolf to work with him and cast talented newcomers.
Now Peach has embarked on his most ambitious project. He has recruited Henare, Whittle and Shortland Street's Harry McNaughton, among others, to star in Alan Bennett's 2004 play The History Boys at the Auckland's Maidment Theatre.
Peach invited Bennett to opening night; he declined the invitation — after all it's a long way to come — but wished Peach luck, saying he hoped the young director had as much fun working on the show as he had writing it.
Given the play's complexity and the fact there's a 448-seat theatre to fill for 16 nights and costs running into six figures, it is natural that there are moments when Peach wonders if he has bitten off more than he can chew.
Others in Auckland's burgeoning theatre community are watching carefully, saying it is an ambitious and potentially risky move. Bigger outfits have considered staging The History Boys but decided it was too high-stakes despite its widespread popularity (it won six Tony Awards, toured internationally to great acclaim and was made into a film in 2006).
They say if nothing else, Peach has got chutzpah. But those who know him, including theatre doyen Raymond Hawthorne, say he might just be able to do it.
Hawthorne tutored Peach on a theatre directing course and remembers him as quiet but sharp, the student who took the most notes and asked questions which led inevitably to indepth discussions.
"The thing about Jesse is that he has a very entrepreneurial streak which is a real bonus for anyone working in the arts. He is also devoted, determined and enthusiastic. I think he has got a huge future. He is gradually lining up credits, getting known and attracting actors who are very interested in working with him. It certainly would not surprise me if he ended up running one of the country's main theatre companies."
That's certainly his aim. Peach founded his own theatre company three (??) years ago and hopes to turn it into full-time, large-scale company or, alternatively, run one of New Zealand's main theatre outfits.
Peach looks at least five years younger than he is. He has an obvious confidence yet is quietly spoken, blushes easily and doesn't like talking about himself, saying it feels self-indulgent. "I guess that's kind of ironic, given my job [as a journalist]."
He says he still has much to learn and the only way he could get directing experience was to be bold and make his own opportunities. He's content to direct other people's plays but one day he might write his own.
Each production has deliberately differed from the last to test Peach and take him in new directions.
Annie Whittle, who has taken leading roles in four of his shows, says he is quiet, thoughtful and has an infectious joy and enthusiasm for theatre which inspires actors.
"Jesse gave me one of the best parts of my life when he asked me to play Amanda Wingfield in The Glass Menagerie. I had not done any theatre for a while and Jesse helped rekindle in me a love for theatre. I haven't stopped since. I think he is amazingly brave and getting braver all the time in terms of the choices he makes. He has very good judgement and knows when something is working and when something looks phoney."
Peach works collaboratively, always willing to use suggestions from others if he thinks they are better or more interesting than his own.
"I guess I learnt early on that you don't have to know everything and it's alright to ask for help," he says. "I think you have to be open to input from others or you risk missing out on something that might work really well and ultimately lead to a better production, a more fulfilling experience for an audience."
He tends to do things the "old-fashioned" way. He wrote a letter to George Henare asking him to take the lead in The History Boys.
"Jesse said he was very young and not very experienced and he would like me to help him. It was flattery but that works every time," laughs Henare, who notes that Peach insisted all the actors learned their lines before rehearsals started.
He and Whittle say one of the best things the young director did to help them prepare for their roles as teachers was send them back to school.
Along with the rest of the 12-member cast, they spent two days with former history teacher Alan Jones discussing the English education system, Cambridge and Oxford universities, the play's many references to historical events and its use of poetry (Peach also called upon poet Sam Hunt, whom he had recently interviewed, to talk to the cast about poetry.).
The tutoring took place at Avondale College, Peach's old school. He was a fifth-former there when he was cast as sullen Blake Crombie on Shortland Street in 1999.
Surrounded by creative people earning a living doing what they loved, Peach says being on the hit soap opera opened his eyes to the world beyond his west Auckland home. For the first-time, he realised he might be able to have a future in the New Zealand arts industry.
He had for years taken singing, music and voice lessons paid for with wages from part-time holiday and after school jobs. The aim was to get an agent and perhaps turn a hobby into something that might pay for itself, but he hadn't thought further ahead than that. Until then, his biggest roles were in high school and community theatre musicals. College drama teacher Alison Nelson remembers him as focused and determined.
Deciding he wanted to be Thenardiers in the school's Les Miserables production, Peach learnt the appropriate song and came to the audition fully prepared. She is not the least bit surprised that he is progressing toward becoming a fully fledged theatre director.
"I think the work Jesse is doing is great, especially for someone so young. Nothing would surprise me in terms of where he goes in the future. Because he has done so much theatre, he knows things from an actor's point of view."
The other thing Nelson, and Hawthorne, stress is Peach's loyal family. He's one of six kids — his oldest brother Isaac is a tattooed, shaven-headed amateur boxing champion — and his parents Jan and Steve have always been supportive. Steve designed the sets for his previous productions; Jan worked front-of-house. His 91-year-old grandmother, Dorothy Gibbs, goes to all his shows — an audience once sung happy birthday to her on an opening night — but she's not sure if she'll go to The History Boys because of the homosexuality themes.
Peach told her to "chill out"; after all, spending time with Dorothy — along with going to the beach, listening to music and reading plays — are his hobbies when he's not working.
Steve and Jan say out of their kids, Jesse was always the performer. As a toddler, he would dress up and dance uncontrollably around the house. Aged six, he asked Steve to build a stage in the rumpus room, home to a well-stocked dress-up box, so he could perform shows.
Peach cannot remember a time when he didn't want to act, sing or play music. He thinks performing gave him the security of a character to hide behind and let him feel totally free.
But that sense of freedom was curtailed when he played Shortland Street's Blake. Steve recalls going to a local mall with his son, only to have everyone calling out to him, pointing and talking; Nelson says a group of girls asked Peach for his autograph when he was on a school trip to an Auckland Theatre Company show.
"I tried to keep a sense of normality and routine," says Peach. "I kept my after-school job at the Bird Barn pet store, where I worked for seven years. Mothers would come in and say, 'I know you — do you play hockey with my son?' and I would be too embarrassed to tell them where they knew me from."
Peach describes himself as self-conscious; not surprisingly the constant recognition rattled him and may explain why he majored in television production at AUT rather than continuing professional acting.
Occasionally, people still recognise him from Shortland Street even though it's 10 years on and he no longer has to dye his hair red. These days the only work he does in front of the camera is for TV3's Nightline and 60 Minutes, for which he does freelance reporting.
He says journalism is a lot like theatre because it is about telling stories which should touch people in some way. The stories he likes best are about ordinary people — it's also the common thread that unites the plays Peach has directed so far. They tend to be focused on normal people, and the situations they are in, to more deeply examine society and its ills.
Peach shies away from a lot of contemporary theatre because he says the people and the set-ups don't seem real to him.
"The Glass Menagerie is my favourite play because it's about people who live in the most ordinary circumstances but what happens to them is so important to them that they become extraordinary.
"I like the idea of portraying normal people as being worth watching. It serves as a reminder that everyone's supposed petty problems are big and important to them and that we should treat people with dignity and consideration."
Until now, he has stuck to staging productions in west Auckland, saying he wanted to take theatre to audiences reluctant to travel from the suburbs to the inner city.
Trouble securing a venue out west has seen him take a chance with The History Boys and head into downtown Auckland. Whether the loyal following he has built up out west will go with him remains to be seen.
At this point, that's about as far afield as Peach is likely to venture. He isn't overly interested in furthering his career overseas. He spent six months in Japan last year on a working holiday but says longer stints away would disrupt his life.
"Of course, I would take an opportunity if it arose but to go on the off-chance one might arise, well I live a normal life and that would be a big disruption. There is so much to do here, and so much that can be done here, and there are so many talented and good-spirited people."
The History Boys is at the Maidment Theatre, Auckland, until October 24.