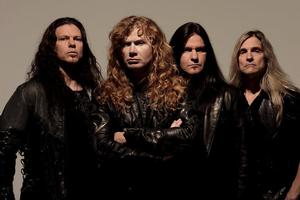 It takes a lot of guts for a heavy metal guitar hero like Dave Mustaine to say sorry.
Over the years the Megadeth founder has had quarrels, harsh words, and, especially back in the early thrash metal days of the 80s, punch ups with his many foes.
He's warred with fellow Megadeth band mates, Pantera, and Slayer. But it is his ongoing 25-year war of words with Metallica - the band he got kicked out of in 1983 for boozing and general bad behaviour - which remains his most famous stoush.
Now though, it seems, it is time to make up and say sorry. Or, as Mustaine puts it, "make right".
On the phone from his studio in San Diego, he admits that he has no real regrets about what has gone down over the years.
"The only thing that is regrettable is when people die and you don't have a chance to say everything you need to say before they pass away," he says. "And I'm getting older and people who are in my age group, they're getting older too. That's why I've really been trying to make right with the people I've had differences with over the years because people die."
In a recent interview, he even acknowledged Metallica's James Hetfield's guitar prowess, and at the beginning of the year he congratulated Metallica for being inducted into the Rock and Roll Hall of Fame.
And he has obviously made up with Kerry King and Tom Araya of Slayer because Megadeth play a double-bill with the band at the Logan Campbell Centre in Auckland on Monday night.
His substance abuse and boozing days - he calls it "getting a bender on" - are over too. He went through a sober stage, being a regular at AA meetings, but now he likes to have a few wines on show night.
He also became a Christian in 2004 and decided to "believe in myself".
"The music is better too," he concludes.
While finding God might sound like a rock 'n' roll cliche, Mustaine says he has always been a believer and references the line, "What do you mean I don't believe in God, I talk to him every day" in the title track of the band's 1986 album, Peace Sells ... But Who's Buying?.
"So, for people who think I've been this godless, terrible kid my whole life, sorry."
He was baptised when he was 4, but his mother became a Jehovah's Witness, which he dismisses as "a full-on cult", and it led him to rebel against religion.
He proceeded to get into witchcraft, black magic, and "got hold of the Satanic Bible" and carried out blood brother pacts with the members of fellow Californian thrash metallers Exodus in the early 80s (a band that incidentally was founded by Kirk Hammett who would later join Metallica).
"When I first moved to San Francisco we all became blood brothers right away, which is why I believe that the reason that [first Exodus] record was called Bonded By Blood."
It was back in these days of the early to mid-80s where bands like Megadeth, Metallica, Slayer and Anthrax pioneered the thrash metal sound.
"The US is completely different because of us, and the rest of the world followed what we did," says Mustaine, proudly.
That might sound dramatic, but it is fair to say Mustaine is one of the genre's great guitarists and his style has been emulated by metal and rock bands around the world.
"A lot of people play guitar very passively and strum it like Roberta Flack, like [he breaks into mock singing] 'Killing me softly ...'. But me, I just like to punch the guitar in the stomach and if the little bastard gets out of my hands at the end of the day then he's won his freedom. I look at the guitar as a weapon, not a paintbrush. I use my guitar to make a living and like I say, 'Killing is my business'."
TimeOut has obviously caught the notoriously temperamental Mustaine in a good mood, which is understandable considering the 12th album, Endgame, is a return to Megadeth's frantic and beastly best. As well as playing classic songs in Auckland, like Hangar 18, Lucretia and Devil's Island, he is also looking forward to playing new songs Headcrusher, 44 Minutes and 1,320.
"We'll try to mix up the set down there," he says, before going on to praise New Zealand's beauty ("The last time I was there it was raining and I just find it the most beautiful place on earth") and share his admiration for Crowded House ("I love that band. I have tremendous respect for Neil and Tim").
Megadeth has undergone many line-up changes in its 25-year history - with Mustaine the only constant - and is currently made up of drummer Shawn Drover, bass player James LoMenzo and guitarist Chris Broderick who joined the band last year.
Broderick is a monster guitar player and Mustaine reckons he is even better than he is.
"He's really shy," he says. "The guy is as big as a horse and he can play guitar circles around anybody. I'm pretty well regarded as a guitar player but I gotta say this guy is better. He's made me a better player.
"Not only did he pick up my style, but he did it faster and closer to the true style I have than any other guitar player I've worked with."
Over the years the band has had its ups and downs and Mustaine agrees there were more experimental periods in the 90s that "the fans didn't warm to".
"They liked the thrashy stuff, which is understandable," he says. "And I'm grateful to them for obliging me the experimentation."
With Endgame, he reckons he's given the fans what they want.
LOWDOWN
Who: Megadeth
What: Thrash metal pioneers
Where & when: Logan Campbell Centre, Auckland, Monday, with Slayer
Latest album: Endgame, out now