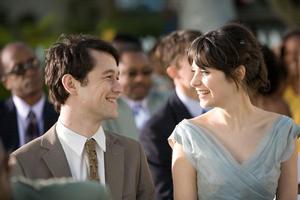 Rating: * * * *

Verdict: A quirky and honest rom-com that both sexes can enjoy.
It might be billed as a romantic comedy, but this unconventional love story is as much about breaking up as it is about falling in love.
(500) Days of Summer isn't a mainstream or indie flick, it sits charmingly between the two. Its unrequited love story is pretty straightforward, but it uses a non-linear storyline, witty narration, cute graphics, cool music and dream sequences to give it a welcome oddball edge.
Tom Hansen (Gordon-Levitt) is an architect, otherwise employed at a publishing company where he writes pithy romantic greeting cards. It's not a bad job for Tom who believes in "the one", falling madly in love at first sight, and happy endings.
His view on love changes somewhat when he meets his boss's new secretary, Summer (Deschanel).
Tom falls instantly in love, and they begin dating, with Tom convinced Summer is perfect and that they're destined to be together. There's one little hiccup in Tom's plan: Summer doesn't believe in destiny, or commitment.
The story is told from Tom's point of view, flicking back and forth in time throughout his 500-day obsession. As he recalls his memories of this on-again off-again relationship, he begins to see his doomed love affair rather differently to how it felt to live it, and gains a new and more mature belief in love.
Gordon-Levitt and Deschanel are charming together. Even though Deschanel is cast as the villain she's sweet, whimsical and honest, and Gordon-Levitt does a good job of being vulnerable and heartbroken without reverting to soppy.
This is a male-skewed story, a romantic comedy that guys can relate to and enjoy as much as the ladies, after all we've probably all known a Summer or a Tom. (500) Days of Summer is not perfect and it drags a little, but its truthful observations about the machinations of relationships and the impact of heartbreak makes this rom-com enjoyable and refreshing.
Francesca Rudkin

Cast: Joseph Gordon-Levitt, Zooey Deschanel

Director: Marc Webb

Running time: 95 mins

Rating: M (low level offensive language)