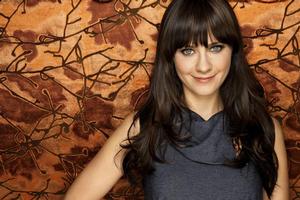 The antidote to the tired and sorry state of Hollywood rom-com flicks of late, (500) Days of Summer is a non-formulaic, refreshing take on love and relationships. Set in contemporary LA (although pre-Facebook and Twitter), it stars Zooey Deschanel, as Summer, who brings a hip realism to this modern-day love story opposite Joseph Gordon-Levitt, whose role could be regarded as the traditional supporting female lead.
"I don't think it has anything to do with gender specifically," says Deschanel of the apparent role reversal. "I think it's more that with our generation those gender roles aren't something that really apply anymore. There are lots of guys who get heartbroken and lots of girls who are cynical about it. Another thing this movie says is that just because love doesn't last it doesn't mean it doesn't have value. You will discover things about yourself if you're being romantic even if it doesn't last. Love can mean a lot of different things.
"Fear of losing it is the dark side but the wonderful side is the feeling that you get when you fall in love.
Everyone has the heartbreak that shapes them in such a way that they could never go back to the innocence that they had before.
"Today there's a lot of polarisation of points of view. People are either very cynical or overly romantic about love. Like somebody's in love one day, and then the next day, they're totally out of love - and I think that's sort of a new thing."
Deschanel, 29, has become a role model for the edgy teenage girl who doesn't look to the vapid likes of Lindsay Lohan or Paris Hilton. She is able to realistically portray deadpan characters, often cast in scene-stealing roles as the "sardonic best friend" rather than the glamorous protagonist, evidenced in movies such as: Almost Famous, and Failure to Launch. But Hollywood has recently widened its view of her offbeat appeal and she has been her opposite Jim Carrey in Yes Man, and Mark Wahlberg in The Happening.
As for Summer: "I can relate to her. She represents ambivalence towards love and romance, its place in our society, and everyday lives. These days, people don't have to get married. It's not necessary for women to do that in order to support themselves.
"We are a generation that has progressed in many ways from the ones before us. We have evolved. Romantic love used to be a luxury, but it's not any more, and staying with one person is not a necessity."
Deschanel is rather opinionated on matters of love and has an interesting take on romance in general. Like many young adults her age, she lives in absolutes. She knows what she likes, what she'll do and what she won't do.
"Instead of letting the rules tell you, 'Okay, you're going to fall in love and this is how it feels, so you should feel that way,' I think people nowadays are more ready to define it for themselves and embrace their own unique identity.
"I think that's what this movie is about. It turns out that these things that I've been told that I'm going to feel aren't really happening the way that I expected them to, but that doesn't mean that there's no such thing as love. It just means that it is individual and there is no precedent."
Through word of mouth, her little film with a budget of $7.5 million, has grossed 30 million in the US alone.
Deschanel was born and raised in Los Angeles. Her father is Academy-Award nominated cinematographer, Caleb Deschanel and her mother is actress Mary Jo (nee Weir). Her actress older sister, Emily, is the star of TV series Bones.
"I would love to, although we'd probably fight," she jokes about the prospect of them ever acting together. "No, seriously, we get along really well. We're rarely up for the same roles. We're very different."
The younger Deschanel moonlights as a singer-songwriter/musician in the indie folk duo She and Him, with M Ward. She is constantly on the move between touring or filming on location. Her singing has helped her get parts, such as the department store singer opposite Will Ferrell in Elf - and even Summer gets to do a spot of karaoke.
Once dismissive of fellow actors launching musical careers on the back of their day jobs, she says: "For the longest time, I thought that any actor who released an album must be the biggest fool ever but, having been a singer all my life, I've now changed that opinion. No one gives musicians any flak for becoming actors, so I don't see any problem in it working in the opposite direction."
Evidently, she finds time for a personal life, and in spite of her views on love and romance, the raven-haired indie pinup girl recently married Ben Gibbard, frontman for indie band Death Cab for Cutie.
"I really never thought about getting married although I am engaged now and that means that I plan to get married," she laughs. "I just wasn't one of those girls who 'knew' I'd get married. I wasn't against it, but my dreams as a kid were of singing and acting. But my parents have been married for 35 years and my grandparents have been married for 65 years, so I come from a long line of good marriages.
"I used to think, 'Oh well, it didn't seem like something I needed to do until I was like, 'Oh yeah! Ok. Now I get it. That's the person I'm going to marry."'
Who: Zooey Deschanel
Born: born January 17, 1980, Los Angeles
Key roles: Mumford (1999), The Good Girl (2002), Elf (2003), The Hitchhiker's Guide to the Galaxy (2005), Failure to Launch (2006), Bridge to Terabithia (2007), The Assassination of Jesse James by the Coward Robert Ford (2007), The Happening (2008), Yes Man (2008)
Albums: She & Him: Volume One (2008)
Latest: (500) Days of Summer, opens at cinemas today.
- additional reporting, Independent