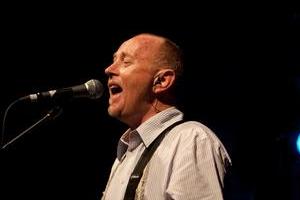 It was 30 years ago this year that the local rock institution that became Dave Dobbyn first released a record - Th' Dudes' debut single, Be Mine Tonight.
Now, with a few more songs under his belt, Dobbyn is celebrating his three decades as recording artist with a series of shows and a forthcoming anthology.
Dobbyn and band will be doing three special concerts in mid-November celebrating the hits of his back catalogue - with all shows at a special commemorative ticket price of $19.79.
The shows in Auckland (Powerstation, Friday, November 20), Wellington (St James, Nov 21) and Christchurch (Bedford, Thursday, November 26) will be in two halves, the first centred on the more reflective songs of his career, the second delivering the big anthems, backed by a band which includes L.A. Mitchell (keyboards), Victoria Girling-Butcher (from Lucid3 on guitar), Mark Vanilau (keyboards), Haddon Smith (from the Electric Confectionaires on guitar and trumpet), Marcus Lawson (from Lucid3 on bass, bvs) and former Muttonbirds drummer Ross Burge.
Also due for release is a greatest hits collection, updating his previous 1999 compilation as well as a career-spanning DVD, and a songbook including lyrics and sheet music. Tickets go on on sale on September 28.
Meanwhile, the other local music veteran in historic mode, Tim Finn, is launching his best-of album North, South, East, West with a free show at Parnell's revamped Windsor Castle on Friday, September 29. A limited number of tickets will be made available to the first people in line. Finn's band will include former Split Enz colleague Eddie Rayner on keyboards as well as Dianne Swann and Brett Adams of The Bads.
The gig is also a product launch for iTunes gift cards and the show will be recorded as an EP for exclusive iTunes release with the album, out on Monday.