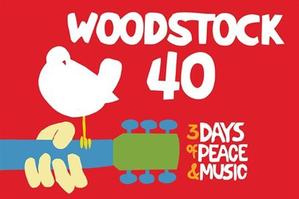 Rating * * * *

Verdict: Everything you ever wanted to hear from the famous festival. And more. So much more.
Woodstock may have offered "three days of peace and music" and provided a breakthrough or a defining moment for maybe half a dozen of its 30-plus acts.
But 40 years later you have to wonder about whether its lasting significance is down to the music, the movie and soundtrack which bailed it out of the financial mire or just good branding - Woodstock wasn't even at Woodstock. It was tagged "An Aquarian Exposition". Woodstock was catchier.
But the Woodstock name stuck like the mud its 500,000 freeloading attendees found themselves in. Arguably any baby boomer nostalgia for the event should be tempered with the fact that it marks the 40th anniversary of rock promoters discovering just what levels of discomfort punters will put up with.
This was the soggy ground zero for hippy mud dancing, a tradition which has endured through the rock generations - all the way to the disastrous, awful 30th anniversary revival of the festival in 1999.
This time though, the Woodstock revival is one to keep you safe indoors for days.
Should your triple album of the 1970 movie soundtrack and its subsequent cash-in Woodstock Two not be up to it, reissue label Rhino has released remastered double CDs of both.
But even more daunting that those is this lavishly packaged six-CD boxset which collects all the previously released material, adds 38 unreleased tracks and then runs the whole thing chronologically - something the movie thought it best to avoid. Apart from hold-outs The Band and Ten Years After, this set features something from every act that appeared which brings the likes of The Grateful Dead (with the 20-minute Dark Star - apparently they were kind of a drug band, like who knew?), The Incredible String Band, Blood Sweat and Tears, and folkie Bert Sommer into the fold.
As well there are extra tracks for Joe Cocker, Jefferson Airplane and The Who - complete with Pete Townshend taking his guitar to Abbie Hoffman who grabbed the microphone at the end of Pinball Wizard to plead for the release of jailed MC5 manager John Sinclair, silly boy.
Despite its increased line-up, there's not a lot that's revelatory. The folks who were good in the previous incarnations (Sly and the Family Stone, the Who, Janis Joplin, Santana, Jimi Hendrix, Crosby Stills Nash & Young) still are, though the expanded stage announcements do make for plenty of light relief and give you a sense of how things must have unfolded in real time and the event's happy hippy chaos.
Its early discs indicate that if you got caught in all that traffic and didn't get there until the second day, you sure didn't miss much - as the place seemed to slumber under the influence of endless bongo-accompanied folkies or Ravi Shankar's earnest indo-musicological lecture.
It took Carlos Santana's guitar to kick Woodstock into life and - many many hours later - Hendrix's to see it off.
In between, there's an awful lot to wade through - it's perpetual blues-boogie all areas at times.
But if you're up for the rock history lesson, this is all you really need to know about Woodstock. Go hose down a patch on the back lawn, turn it up to neighbour-worrying levels and get stuck in, er, man.
Russell Baillie