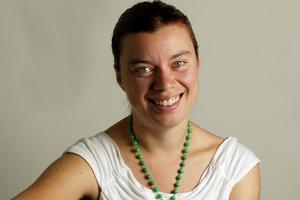 In Art, one of Yasmina Reza's earlier plays, three Parisians talk a lot before one of them, finally, does something outrageous. In contrast, the four Parisians in Reza's latest offering, God of Carnage, commit various outrageous acts while talking a lot, throughout a short, one-act, alcohol-fuelled crescendo of comic social horror. In this Auckland Theatre Company production, two couples, onstage for virtually the entire real-time play, make fools of themselves and of each other on very little pretext. Neurotic - it's French for fun.
Courtesy gets you nowhere, wails Veronique (played with suitably limber physicality by Miranda Harcourt); her yoga poses serve only to exacerbate her hysteria. But rough uncouthness - which her hamster-abandoning husband Michel (a slightly raspy Dave Fane) celebrates - leads to "the worst day" in her life. Hera Dunleavy as an (initially) uptight woman "in wealth management" and Peter Elliot's consummate workaholic amoral lawyer are always on the brink of leaving in high dudgeon - instead of waiting for Godot to come, Veronique and Michel are waiting for these godawful visitors to leave.
The couples are holding a summit meeting to talk about a fracas between their sons, but Reza, rather than describing the adults' hostility as childishness, compares it with their colonial view of "uncivilised" (or is that "natural"?) Africa. The God of Carnage, apparently, rules over middle class lounges in Montmartre as well as genocidal conflicts in Darfur.
But for all its anti-materialism and questioning of globalisation, God of Carnage is most overtly an entertainment of schadenfreude. Although they take it in turns to have audience-friendly opinions, none of the characters is particularly likeable, all the better to increase our glee at their downfall.
The four actors work smoothly together and display ATC's customary polished professionalism under the direction of Colin McColl.
Having fewer seats than people on stage is a clever, subtle touch by designer Rachael Walker, increasing the visible awkwardness and tension of the situation.
For anyone who has ever wanted to hurl someone's prize possessions against the wall out of frustration but were too polite, watching God of Carnage should be a satisfying vicarious experience.