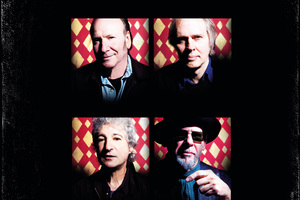 You'll get no argument here that Marquee Moon, the 1978 debut by Television is one of the great rock guitar records. Those packed into the Powerstation last night to see three-quarters of the original band play seven-eighths of that classic album undoubtedly feel the same.
Add a few more songs to make up the dozen (including 1975 debut single Little Jimmy Jewel and a spirited cover of the Count Five's 1960s garage rock rave-up Psychotic Reaction to finish) and there it was. It made for a tremendously satisfying blast from one of rock's more intriguing pasts - the New York punk/post-punk scene of the mid 70s which also gave us Blondie, Talking Heads and the Ramones.
But this first-ever appearance by a reunited Television in New Zealand maybe wasn't quite the second coming. And seeing a band of this vintage playing music this deliberate of pace and detailed might have been better experienced as a sit-down concert.
It was a performance that hit some indulgent patches, like the extended spaghetti western freak-out of one new song in the set. Band frontman, guitarist-singer Tom Verlaine, mostly remained a quiet enigma throughout, still yelping those idiosyncratic lyrics of his to the likes of Prove It and See No Evil, while his cohorts laid down that crazy paving of guitar riffery and stop-start rhythms.
There were magic moments aplenty. Predictably, a fair few of them came in Marquee Moon's epic title track at the end of the set. It was strung out over an entrancing 15 minutes powered by the surging counterpoint guitars of Verlaine and Jimmy Rip (who has replaced founding member Richard Lloyd in recent years).
Seeing this grand geyser of a song blow its top live was exhilarating. And hearing the rest of that album - minus its original closing track Torn Curtain - rendered live was pretty delightful too.
So too was Australian veteran singer-songwriter Ed Kuepper in his opening solo set. Picking the eyes out of a vast songbook dating back to Aussie punk pioneers The Saints and jazz-framed post-punk outfit The Laughing Clowns, Kuepper captivated with his acoustic playing, a mix of muscular attack and delicate chord shadings and his plaintive songs of damaged love.
His renditions of the Clowns' Eternally Yours, and his own The Way I Made You Feel and Everything I've Got Belongs to You reminded he's got some timeless gems in that back catalogue and he was a stirring start to the night.