Sarah Lang looks forward to the third series of a sitcom that is proving one out of the box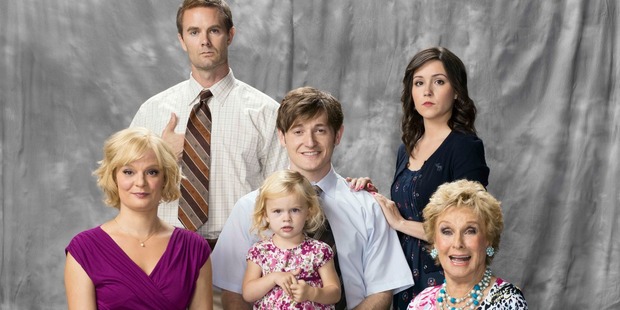 When Raising Hope first aired here in 2011, its wacky premise was a sign that this wasn't just another cookie-cutter American sitcom. Basically, Jimmy (Lucas Neff), a clueless 25-year-old, has a one-night stand with Lucy (Bijou Phillips), a girl who jumps into his van. The next morning he finds out she's a serial killer, later discovers she's having his baby, and after she's executed becomes a solo dad to Princess Beyonce, renamed Hope (Baylie and Rylie Cregut).

Jimmy gets some well-intentioned but inept help from the parents who had him at 15: house cleaner Virginia (Martha Plimpton) and pool cleaner Burt (Garret Dillahunt), as three generations live for free in the house of Virginia's doolally grandma Maw Maw (Cloris Leachman).
In that first episode, the scene in which Lucy says no one will execute the mother of a six-month-old cuts straight to a shot of Jimmy covering Hope's eyes in the electric-chair viewing room. What could have been horribly tasteless had a winning irreverence that set the tone for the show, with all its flashbacks to how lucky Jimmy is to have survived his childhood: left at home on a leash, electrocuting himself, sticking his head through the hole in the car, "flying" off the roof with an umbrella.
The humour might sometimes get perilously close to the line, but it's fun wondering how close it will get.
Raising Hope takes the mickey out of its flawed family with all the cleverness, sophistication and self-awareness that its characters lack. But this is gentler satire than, say, that of the Bundys in Married With Children. Jimmy and his no-bull battler parents are likeable, and their economic realities make them relatable.
They clean the houses and pools of the rich while living in a tip of a home they don't own, and their surname, Chance, is also the only way to achieve their dreams: Burt's is winning the lottery; Virginia's is buying a luxury house to fit all her hoarded stuff; Jimmy's is romancing the grocery-store girl Sabrina (Shannon Woodward) even though he's broke and raising a serial killer's baby, while Sabrina's handsome boyfriend is studying finance.
By the end of series two, Jimmy and Sabrina had got together - hooray - but everything else had got a bit crazy, with Lucy back from the dead and any attempts at realism discarded. Thankfully the third series' opener, which airs tonight on Four, is a return to form. Melanie Griffith guest stars as Sabrina's narcissistic mother Tamara. "Is my daughter dating you to hurt me?" Tamara asks. "I hope not," Jimmy replies. Tamara is in town for the funeral of her own vile mother, who speaks via video and is played by Griffith's mother, screen legend Tippi Hedren.
Now, I won't spoil the announcement that has Virginia bring out "the champagne I was saving for when Oprah comes crawling back to network TV", but keep an eye on Maw Maw.
Maw Maw initially threatened to be a stock character: you know, the grandma who's lost her marbles and does wildly inappropriate, often scantily clad things. But Cloris Leachman, an eight-time Primetime Emmy Award winner, delivers stellar one-liners with spot-on comic timing. I love Maw Maw's brief moments of lucidity, when she startles her family with insight, wisdom and threatened eviction from her house. Chances are they'll stay; a fourth season has been scheduled.


• Raising Hope's third series premieres tonight on FOUR, 7pm