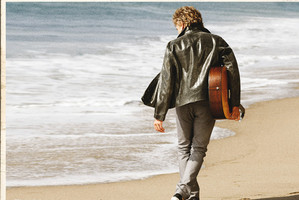 Prompted by recollections for his enjoyable, candid autobiography, last year Stewart started serious songwriting again after decades away, and in songs he co-writes here he declares his love for wife Penny (She Makes Me Happy, Beautiful Morning), respect for the support his late father gave him and a youthful determination to make it (Can't Stop Me Now), reflections on a first love (Brighton Beach), separation from a wife (It's Over), lost years before love returned (Finest Woman), an open letter to one of his sons (Live the Life) and more.
Despite some smart lyrics (referring to his beloved old soul and other classics - check the title track) some of the upbeat songs are little more than stadium-sized choruses. Naysayers will find it sentimentality saccharine, but wasn't he always a sentimentalist? Even as far back as Maggie May? Again, he covers a Tom Waits' song (Picture in a Frame) and, although Waits loyalists will carp, he does it well in his own way. And this album is just that, Stewart at 68 doing it in his typically romantic, shamelessly sentimental, soulful, self-referencing and calculated way.
He says in his book he'd be gutted if this is "anything less than an international sensation". Two-thirds deserves to be.
Click here to buy Time by Rod Stewart
- TimeOut / elsewhere.co.nz