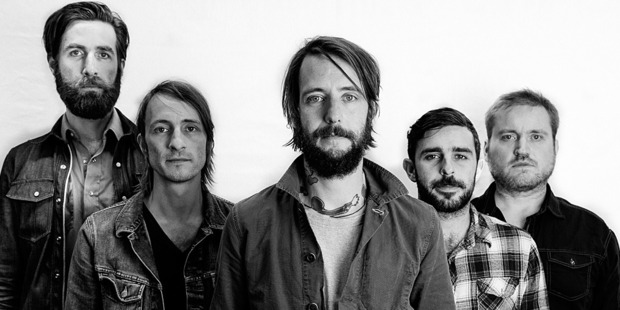 It's not often you'll find fans shushing each other at a rock concert - especially when they have been drunk, rowdy and happy for most of the show.
But that's exactly what happened when Band of Horses began the delicate intro for The Funeral, with a chorus of "shhs" echoing across the sold out Powerstation crowd as fans jostled for position.
With it's emotional weight and lyrics like "Every occasion I'll be ready for the funeral", the standout hit from their 2006 debut Everything All the Time has - thanks to strategic TV and film placements - nearly become bigger than the band.
And it's still the epicentre of Band of Horses' live gigs, with its gloomy euphoria proving to be the climax of last night's Auckland show, a sideshow from their upcoming Big Day Out dates in Australia.
It's a shame then that after four albums - including last year's excellent Mirage Rock - there weren't a few more moments to match it at their third sold out New Zealand show in six years.
True, the beardy quintet's acoustic version of No One's Gonna Love You had couples canoodling and sent shivers down the spine - despite the fact that it's a song about a relationship break-up.
And the Seattle act came out of the starting box at a gallop, racing into loud and intensely raucous versions of Ode to LRC, NW Apt and Feud like they were trying to be the Foo Fighters' countrified cousins.
When theatrical front man Ben Bridwell signed off Is There a Ghost with an ecstatic and celebratory "Woo!", and threw his cymbals to the ground after the southern road trip rock of Laredo, it felt like this could be the best Band of Horses show ever.
But they couldn't keep the pace up, getting bogged down in a middle section that meandered all over the place, from slowburning footstompers Everything's Gonna Be Undone and The General Specific, to dreary ballads Infinite Arms and Slow Cruel Hands of Time, and the wedding band waltz of Older and Marry Song.
As the show's superior start proved, Band of Horses are much better when they're going full throttle, like recent single Knock Knock, which comes with the kind of epic guitar drone and singalong "woo hoos" that Kings of Leon would be proud of.
Don't place your bets just yet, but a few more of those and Band of Horses could become a sure thing.

What: Band of Horses
Where: Powerstation, Auckland
When: Wednesday, January 16