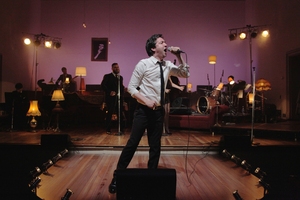 Post-war songwriter Jacques Brel - an inspiration for the likes of Leonard Cohen and David Bowie - wrote punchy, intense stories-in-melody which are well-suited to a theatrical presentation such as this. His lyrics range from sentimental to harsh, and Silo Theatre has created an engaging showcase of 22 songs, emphasising Brel's tug on the heartstrings.
Director Michael Hurst and musical director/orchestrator/pianist Leon Radojkovic have chosen not to slavishly follow Brel tradition. The accordion is replaced with electric guitar, updating the sound and moving the cultural atmosphere from Belgium towards the United States. Some songs are smoothed into syrup; backing vocalists occasionally sound and move like 1960s doo-wop girls, sometimes ironically, sometimes incongruously (the era is Brel's, the aesthetic is not). The usually hesitant Ne Me Quitte Pas zips along allegretto.
The styling - warm orange-glow lampshades, mod make-up and a gogo mini for Jennifer Ward-Lealand - subtly suggests a 1960s lounge cabaret.
A portrait of Brel dragging on a cigarette is the only backdrop (he died of lung cancer at age 49).
Sometimes focus is dissipated from the lyrics by the band volume or other singers moving around upstage. But the emotion is palpable, the phrase repetition hypnotic, the lighting dynamic.
Julia Deans, ex-Fur Patrol, is a revelation: a soaring voice matched by a charismatic storyteller's knack during the carnival-threat numbers, Timid Frieda and Carousel. She could carry a cabaret on her own, a la Camille O'Sullivan.
Tama Waipara gives his quieter songs dignity and, during the devastating cascading jazz of Fanette, he changes his usual deadpan delivery to the far-away look of a man who suffers. Jennifer Ward-Lealand seemed ill at ease at first, but soon warmed up to become suitably desperate in Marieke and darkly humorous in Funeral Tango. Shihad's Jon Toogood makes a good fist of the darker, energetic pieces, My Death, Amsterdam and Next, savouring such pungent lines as, "My death waits there between your thighs". Bravo.
Musical theatre
Who: Brel
When: Until November 24
Where: Concert Chamber, Town Hall