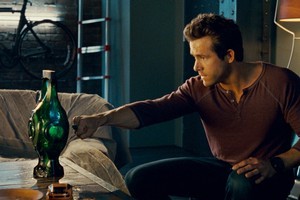 Hal Jordan, having been bequeathed a ring and lamp by an alien who sought him out then promptly died, is trying to get his new cosmic accessories to do their thing. "To infinity and beyond!" he exclaims while trying to work out the oath that the dead space creature mentioned in his last utterances (as delivered by our own Temuera Morrison).
Quoting Buzz Lightyear is funny. And care of Reynolds' handsome goofiness - being lantern-jawed helps possibly - this first live action film of the DC Comics second division superhero does a good line in comedy.
That's helped, briefly, by Taika Waititi as Jordan's boffin sidekick and various other creatures from another galaxy.
The trouble is how the film connects its funnybone to the rest of its superpowered skeleton.
Something doesn't quite gel in its attempt to combine Ironman-styled irreverence and a spot of romance (with the decorative but bland Blake Lively as Jordan's fellow pilot Carol Ferris) with an origin story.
That concerns how gung-ho test pilot Jordan becomes the defender to our part of the universe.
His induction into the multi-galaxy Green Lantern Corps is barely over before he's using his newly acquired powers - being able to fly, create weaponry out of thin air, glow a lot - to take on newly evil scientist Hector Hammond (Sarsgaard, seemingly channelling John Malkovich). Hammond though is just the warm-up act for Parallax, a black cloud of badness from outer space (run good citizens, run!).
The show-downs with both, as well as Jordan's frequent intergalactic excursions, offer some 3D-wow moments.
But Green Lantern just seems to tick off the things comic book movies are supposed to do - mainly set up a sequel while churning through a special effects budget.
And it does that without creating any real excitement or making its superhero something more than a cartoon character.
So it turns out, it's a film that might rack up a few Lightyears but it's without quite enough Buzz.
Stars: 3/5
Cast: Ryan Reynolds, Blake Lively, Mark Strong, Peter Sarsgaard, Taika Waititi
Director: Martin Campbell
Rating: M (Fantasy violence)
Running time: 114 mins
Screening: In 3D and 2D
Verdict: It ain't easy being green (screened)
-TimeOut