Dominic Corry reckons some of the best films recently have been completely overlooked.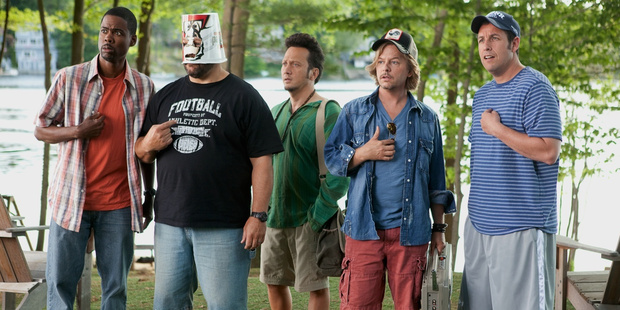 The highly ephemeral nature of contemporary film releases means many movies are often out of theatres before word-of-mouth gets a chance to take hold. So it can be easy to miss a good one.
Despite this highly corporate, pump-and-dump theatrical model, the lasting legacy of a film is still determined in the old-fashioned way - it slowly seeping out to the masses in the years following its release.
It's reassuring that despite all the huff and bluster surrounding movies these days, the final assessment remains as democratic as it always was. That said it's very easy for films to slip through the cracks of public opinion.
In today's blog, I'm going to cite some films from the last few years that were perhaps somewhat overlooked initially, but very much deserve to be sought out and watched. If they sound like your bag.
The first film I'm citing should've really been included in my recent discussion of bad-ass cinema - Joe Carnahan's 2012 thriller The Grey.
It's a modern Jack London-ish tale of some oil workers who are stalked by a pack of wolves after their plane crashes in the Alaskan tundra.
Liam Neeson heads an incredibly solid cast that features some of the coolest actors currently working: Dermot Mulroney (New Girl; Lovely and Amazing), Frank Grillo (on screens at the moment in Captain America: The Winter Soldier), Dallas Roberts (The Walking Dead; Rubicon) and James Badge Dale (Iron Man III).
The story may be rather simplistic, but it plays out with a sense of vivid fatalism lacking in most modern cinema. The film's exploration of the unspoken "measure-of-a-man" motif evokes some of '70s cinema's best male-centric movies like Emperor of the North Pole and Hard Times.
When it was released, The Grey seemed a little out of place amongst the bigger and sunnier blockbusters that tend to dominate these days, but that's only more reason to seek it out. The film wasn't a total flop, but I find far too few people I encounter have seen it.
Last year's dark thriller The Counselor perplexed audiences when it was released, and I admit to not knowing quite what to make of it. But my view of it has only increased in the time since, and it really does demand to be seen. The long slow re-assessment of this film begins now.
Most of my friends think I am joking when I say that I think 2012's Battleship is underrated, but I really do.
I had a curious experience with the film - I'm proudly pragmatic when it comes to big stupid blockbusters, and I will always go into a movie wanting to like it, and ready to meet a film on its own terms, no matter how cheesy or ridiculous those terms may be.
Unfortunately, I was sitting only a couple of seats away from someone who did not share this view when I saw Battleship. This person proceeded to scoff and make loud derisive comments to a friend every time something remotely cheesy happened. Which was a lot.
I'm all for being amused by over-the-top cheesiness in films, but at some point we need to just let cheese be cheese. The loud scoffing coming from the other people in the cinema only made me want to side with Battleship, which now seemed like an underdog. And how can you not root for the underdog?
My experience in that screening reflected the reaction to the film overall - much scorn was heaped upon it by critics, and the recruitment-friendly portrayal of Navy life didn't help.
I'm not saying the film's a masterpiece, but it's a fine hardware blockbuster with cool action and some rad design. It holds up much better than its clear inspiration - the Transformers movies, and director Peter Berg's flair for action composition is in full effect.
The action in Battleship puts the seafaring climax of X-Men: First Class to shame. Plus I even managed to find myself emotionally investing in the big "old timers fire-up the decommissioned battleship" finale. So thank you cynical fellow viewer, your haughty scoffing only served to push Battleship and I closer together.
I'll admit to being slightly embarrassed to be defending the film, but how can you hate on a movie where this happened on set?
Another film I've been ridiculed for liking is Adam Sandler's 2012 comedy That's My Boy, which suffered for having come out with a particularly grueling glut of Sandler turds (Just Go With It, Jack and Jill, Grown Ups 2) and being unfairly lumped in with them.
Sandler plays a crude former D-list celebrity attempting to sidle up to his long-lost son (played by Sandler disciple Andy Samburg) who is marrying into a rich family.
That's My Boy cracked me up more than any "pure" Adam Sandler film (i.e. not including Funny People) since The Waterboy. It's Sandler's first R-rated film in ages, and his low-brow stylings have always better suited a film environment where the F-word flows freely. The freedom of the higher-age rating results in a game film willing to try anything. Not every joke lands, but I appreciated the enthusiasm displayed.
Sensitive critics freaked out about topics like brother/sister incest and teacher/student sex being used for comedy, but taking any of this seriously is a mistake. I can't remember that last time Sandler's scummy sense of humour played out so amusingly. Plus I never thought I'd be impressed by Vanilla Ice doing anything, but Rob Van Winkle is hilarious playing himself, an old party pal of Sandler's.
Speaking of Sandler, I gotta say I didn't totally hate Grown Ups 2. It gave David Spade a significant character arc, and that's enough to get me to like any film. In line with the film's superlatively negative reception (except at the box office), two local comedians recently started a podcast in which they talk about watching Grown Ups 2 weekly. It is called The Worst Idea Of All Time.
Anyway, just in case there's anyone still reading after this impassioned defence of Battleship and That's My Boy, let me alert you to some other overlooked gems.
The 2011 Norwegian thriller Headhunters got more attention than most Norwegian films thanks to it being an adaptation of a Jo Nesbø novel, but it still remains criminally under seen. It's a dark thriller about a corporate headhunter who also happens to be a high-end art thief. It takes some pretty brave turns that the planned Hollywood remake is sure to smooth the edges off.
It's difficult to picture any Hollywood actor being willing to suffer the on-screen indignities that lead Askel Hennie undergoes here. Plus, Nikolaj Coster-Waldau - Jamie Lannister himself - is in it and he's rad.
Headhunters is a potent example of how the best contemporary thrillers are coming out of Europe these days. There's a cool English-language trailer made for the American release here.
Lynn Shelton's gentle dramedy Your Sister's Sister offers up much more satisfyingly complex character dynamics that most films of its kind, and is a bigger movie than its basic set-up (three people in a cabin) suggests.
None of the three talented leads (Mark Duplass, Rosemarie DeWitt, Emily Blunt) have ever been in a better showcase for their humane appeal.
I was sure Sound of My Voice would break-out beyond its festival status, and although the film enjoyed a small cinema release, it remains far too under seen.
Following two documentarians who infiltrate a Los Angeles cult lead by a woman who claims to be from the future, the low-key thriller fully exploits the ethereal allure of rising actress/filmmaker Brit Marling. If you're a fan of cult-centric stories like me, you'll know they can easily go either way. This one goes the right way, and deserves a wider audience for it.
Cloud Atlas, never actually came out at cinemas here, much to my consternation. Since it was released globally on DVD and Blu-ray last year, the ambitious era-spanning epic has garnered something of a reputation as a film that critic's love, but audiences hate.
That's a bummer, as there's nothing elitist about its pleasures. That said, it is a film that is incredibly easy to scoff at - a superlative earnestness permeates the whole thing and Tom Hanks speaks like Jar Jar Binks at one point - but I love how this film wears its heart on its sleeve.
The Wachowskis proved themselves modern cinema's most ambitious blockbuster directors with Cloud Atlas, and it bodes well for their next film, the also ridiculous-looking-but-surely-awesome Jupiter Ascending, for which an amazing new trailer has just been released.
Lastly, I wanna give a quick shout-out to another recent film that went straight-to-DVD in this country and remains under-appreciated, the disturbing horror flick Sinister, which I wrote about at length here.
* Which films from the last few years do you think were under appreciated? Comment below!