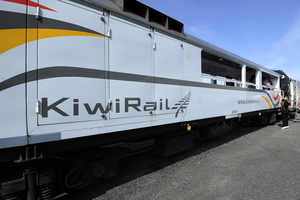 A "hot-tempered" KiwiRail worker accused of slashing another staff member's car tyres was rightly fired, it has been ruled.
Kieran Waite was sacked from his job as a service person at the company's Auckland Metro Maintenance facility at Westfield last November after he was seen on CCTV crouching beside a co-worker's car, which later turned out to be damaged.
A hole about the size of a small flat-head screwdriver was found in one of Peter Speechley's car tyres, which had deflated when he attempted to drive home around four hours later.
It followed "an unpleasant exchange" between the pair, in which Mr Waite had questioned Mr Speechley about whether he was going to "get the f*** down there and help the boys" because it was a busy night.
Mr Speechley had replied, something to the effect of: "Who the f*** are you, you're not my boss."
The damage to the tyre was reported to KiwiRail management, who checked CCTV cameras, and found the footage of Mr Waite apparently slashing Mr Speechley's tyres.
However, Mr Waite insisted he had accidentally dropped money out of his pocket and was picking it up.
A series of disciplinary meetings were held with Mr Waite, who was fired three months later, after KiwiRail concluded he had "intentionally damaged Mr Speechley's vehicle".
"KiwiRail eventually concluded that the exchange between the two men was significant, that Mr Waite was known to be hot-tempered, that Mr Waite and Mr Speechley did not have a good working relationship and that the altercation may have been a motivation for Mr Waite to attack Mr Speechley's vehicle later that night," the Employment Relations Authority (ERA) said.
While it concluded that KiwiRail had too readily accepted Mr Speechley's explanation for the tyre damage with questioning whether it could have occurred before he arrived at work, it said it was satisfied the tyre had been damaged during his shift.
The company's failure to keep the tyre as evidence was "another weakness in the process", the ERA said.
But it said KiwiRail had formed the right conclusions, and had followed the law in its sacking of Mr Waite.
His case was dismissed.
A spokeswoman for KiwiRail said the company accepted the findings of the ERA and had no further comment.
- APNZ