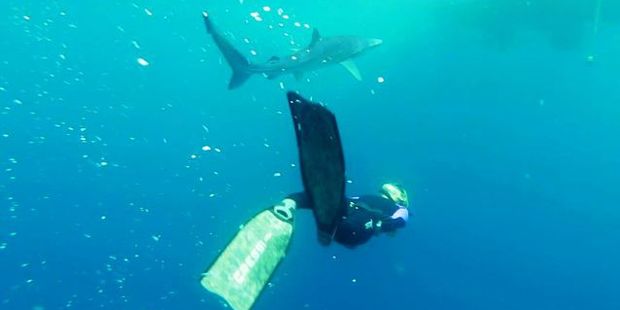 I never thought the day would come when someone would yell "shark!" and I'd trip over myself trying to get into the water to swim with this animal I had been taught to fear.
This happened to me last week while on the last day of a four-day Great Barrier Island shark-seeking mission. Perhaps I was under the spell of Ocean Ramsey - aka the "shark whisperer" - ocean conservationist and eco tourism business owner. She'd flown in from Hawaii to work alongside local shark scientist Riley Elliott and his team who have been collecting valuable data to prove that New Zealand is a breeding and birthing ground for the blue sharks. Sadly the recent ban on shark finning means the blue sharks will not be protected until the end of 2016. This means up to half a million sharks will be killed for a bowl of soup.
There were six of us on the Great Barrier mission, and my primary role was to learn, and document the week's experience. Ocean is softly spoken, but with such a huge body of underwater experience behind her, the knowledge she shares is imparted with humble confidence and a deep, innate passion.
She is also always quick to remind people that sharks are wild animals, and she's not out there trying to tame them. I think if anything she is trying to tame the wild accusations of the Jaws movie generation, and prove that sharks are actually highly intelligent, graceful animals.
During the first three days we only saw a couple of makos, which once again sadly proved that New Zealand's shark alley has become a shark graveyard. I went to sleep that night hoping that the next day, our final day of the mission, we would see blue sharks. The blues are a lot more docile than the makos, and the ones I knew the most about. If I was going to get in the water with a shark, it would be a blue shark.
By 9am the sun had burned through the clouds, the water was calm, and the underwater visibility perfect. Around midday a six-foot blue shark picked up on the scent of the berley we had hung from the end of the boat. Ocean and Riley went in first, while I stuck to the edge and watched their every move. The blue was curious, and hungry, and would sniff at the chum, and then go back to Ocean and Riley to investigate.
"Is this food?" The shark must have been thinking to himself as he swam up to them. About ten minutes went by, and then Mike Bhana, our cameraman, who has been observing sharks since the early nineties, gave me the nod to get in. By this stage I knew enough to know that humans are not part of a shark diet, and he had no interest in eating me. In the situation I was in, we had eliminated the risk of mistaken identity.
For the past couple of months, ever since I committed to this campaign, I have had to challenge my emotions. Fear was the most dominant - that thing we have considerable control over, so long as we don't let it consume us.
But something changed when I saw that blue shark swimming in the water with Ocean and Riley. Three days on a boat with them, their experience, joy and love for sharks, coupled with my time observing the animals on this trip, had changed my perception of sharks completely.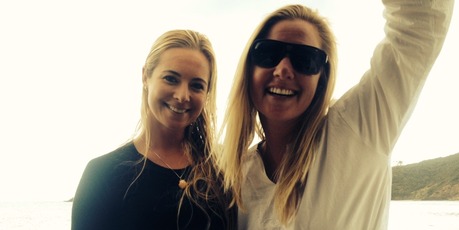 I wasn't scared anymore. The only thing I was scared of was not getting a chance to swim with the blue shark. And so as soon as I got the go ahead I didn't want to waste another moment putting on my wetsuit. The water was warm enough, and so I threw on my mask and snorkel and slipped in when the shark was on the other side of the boat.
At that moment I realised I had crossed the line from fear to fascination.
I swam in behind Ocean and took my position. Riley came in from my right side, and the shark started swimming towards us. I was aware of my heart rate, it did go up, but it wasn't fear, it was the thrill. Ocean pushed him away gently by his nose when he was right up against us, and as he did another lap to the boat Riley took my hand and we swam towards the blue with Ocean on my left.
Next thing I know the blue was swimming between us, and around us, and as he cruised by his skin shimmered a gorgeous metallic blue under the high noon sun. Using special electro receptors under his nose, I watched, enchanted, as he darted between the boat's outboard, the GoPro cameras, and even our hands, which are alive with electrical signals. I was completely mesmerised by his curiosity, and his swift, stunning beauty.
A few days have passed since this incredible experience, and it still feels like I'm glowing from the inside. I get goose bumps just thinking about it. Would I do it again? Yes, absolutely, but only with trained professionals. I see these ridiculous online videos of some moron hugging a lemon shark, and another diving with a bird cage, and I am just so grateful we have people in the world like Ocean Ramsey and Riley Elliott who are dedicated to keeping it real.
For more info, check out www.sharkwhisperers.com.
Like what you see? For weekly Element news sign up to our newsletter. We're also on Facebook and Twitter.