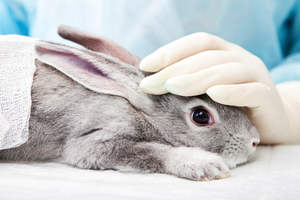 A poll conducted by Horizon Research shows that 88.9 per cent of New Zealanders, support a ban on cosmetics testing on animals.
Animal rights group SAFE say that this would put our country in line with Inda, Israel and the European Union where animal testing for cosmetics has been outlawed.
88.8 per cent of participants also agreed that "the practice of testing cosmetics on animals causes pain and suffering to animals and it is not worth causing this kind of suffering just for the sake of cosmetics, especially when there are already thousands of safe ingredients."
Mandy Carter, SAFE campaign manager, says that with the Animal Welfare Act currently under review, now is the perfect time for Government to listen to what the public wants.
The poll also showed that 53 per cent would not buy a product that was tested on animals.
To find out how to avoid animal-tested products download SAFE's 'SAFE shopper' resource here.
Like what you see? For weekly Element news sign up to our newsletter.
We're also on facebook and Twitter.