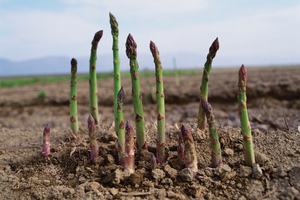 Gardening:
With the shortest day now behind us, thoughts turn to preparing and planting for spring growth.
The weather is now more settled with more balmy days rather than grey days. You can almost feel the energy in the garden. Seedlings are bursting from the soil, flowers are blooming and young fruit are setting on trees. The calming hum of busy bees is everywhere. With all this verdant growth now is a good time to apply side dressings of compost or sheep pellets.
Ripe for the picking
Asparagus, snow peas, beetroot, broad beans, carrots and parsnips and celery are all at their tender best this month. If you are lucky you may even be treated to new season's potatoes.
The veggie garden
If you have a warm, sheltered spot it could be time to bung in a few seeds of corn and french beans. Remember with all crops, small successional plantings are the key to avoiding a glut. For a family of five I would recommend sowing around ten seeds of each type every three weeks. Cucumbers, marrows, melons and pumpkin seedlings can also be planted.
I have to admit I always buy these as single pot plants at the garden centre. There are so many interesting varieties to grow.
Scaloppinis are a round variety of courgette. They grow into what I like to call mini flying saucers. This can be helpful when you are trying to get a family of boys to eat them.
For all these plants dig over the area and add several spade fulls of rich compost and mix well. If you have clay soil create a little knoll. Plant on the top of this. Not only will this provide your plants with an expansive view of the garden but it will aid drainage. Allow at least one square metre between plants as these babies get big!
Start sprouting your potatoes to plant. I place mine in old egg cartons and place in a cool but light area. When the sprouts get to around 10cm they are ready to plant out in the garden in trenches.
Sow seeds of: celery, carrot, beetroot, lettuce/mesclun, peas and silverbeet.
Urban orchard
Spring blossom has been and gone on stone fruit but pears and apples may still be in flower in your garden. Warm, still days allow bees to do their important work and pollinate. Continue applications of an organic fungicide to prevent any mildew problems.
Remember to do any organic spraying in the evening when all beneficial insects have retired for the night.
Nothing beats a summer pavlova with fresh passionfruit pulp drizzled over it. Passionfruit costs a small fortune in the shops so why not grow your own. Choose a hot sunny position. A concrete block wall or northern facing wall of your house is perfect. Provide some netting or a trellis for it to clamber up. Lots of animal manure at time of planting is the ticket here.
Herbs
Nasturtium
This hardy creeper is a native of South America. Grown in full sun it will happily self-seed. The flowers and leaves are edible and give a splash of colour and a peppery taste to salads. The flower buds can be pickled and used as capers. Nasturtium makes a wonderful companion plant to the broccoli family by working as a host plant to aphids.
Bee balm
This North American native loves the sun and will grow up to 90cm high. The flowers come in pinks, reds and whites and are loved by bees and other important pollinators. When the leaves are crushed they produce a spicy, fragrant essential oil. Plant with tomatoes to improve their growth and flavour. I have sown our council verge in these seeds to provide a food source for my bees. Why don't you do the same - at least you won't have to mow the grass!
Rearing rabbits for meat
Rabbits are naturally browsing animals which mean they nibble tips of plants and then move on to another plant nearby. Hopefully their natural instincts will keep them safe but it is surprising the number of common garden plants which can be poisonous. To be safe I only feed plants and grasses which I know and can identify. Here is a list of common plants that are poisonous to rabbits; buttercup; daphne; daffodil; eggplant; elderberry; foxglove; oleander; rhododendron; rhubarb; sweet pea seeds; tansy; tomato leaves; tulip; wisteria.
Like what you see? For weekly Element news sign up to our newsletter.
We're also on facebook and Twitter.