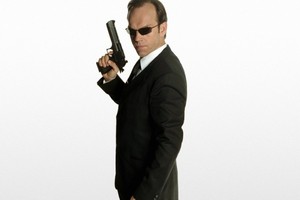 Entertainment: I recently heard an interview with a scientist who was having some success in his work on curing the biggest killer of humans in the world: ageing. I was a little startled. I had never considered ageing a disease, merely an inevitability.
When asked if this was a particularly good idea in light of the looming population crisis, he replied that as a fan of both Star Wars and Star Trek he thought we could all simply move to a new planet. Well. What glorious optimism.
There are many who argue that human overpopulation is the most serious environmental problem facing the world. The statistics are quite staggering. It took us 200,000 years of being humans before we reached the billion mark around 1800. By the turn of the millennium, despite two world wars and several bad cases of the flu we numbered six billion. In the 13 years since we have added another billion.
There are now more than seven billion of us, and the latest UN report on population growth states that we could reach 11 billion by 2100.
Some estimates have it as high as 17 billion. That's a lot of mouths to feed, which may please retailers of fast moving consumer goods and those who are currently finding it difficult to meet 'the one'.
The problems associated with this multitude includes the obvious ones such as food and water scarcity, the extinction of other species as we encroach upon their habitats or simply eat them, lack of resources in general, and substantially more in-fill and up-fill housing.
Thankfully there are people proposing possible solutions. The Voluntary Human Extinction Movement believes that the answer lies, as their name indicates, in extinction. They should at the very least be given due credit for the voluntary nature of the plan. Not for them snuffing out the living. They merely suggest we stop reproducing. Their slogan is "May we live long and die out". It's very catchy.
They are nowhere near as extreme as the Church of Euthanasia, who described themselves as a "nonprofit educational foundation devoted to restoring balance between humans and the remaining species on Earth". While they aren't advocates of murder or forced sterilisation, they do commend suicide, abortion, cannibalism and non-procreative sex.
Founder Chris Korda, a strict vegan, once suggested that cannibalism was environmentally friendly. "We have 60,000 auto-accident fatalities a year in the US," she told one journalist, before suggesting that the meat should go to a well-known fast food outlet "where the food is already so processed I don't think anybody would notice the difference."
Fortunately population decline is already underway in some countries. But in developing countries, and especially in Africa where the population is predicted to explode, there are more realistic solutions to slow growth.
Educating and empowering women works. So too, ironically, does reducing infant mortality, and thus the need to have multiple children to compensate for the fact that not all will make it to adulthood.
But there remains among many a belief best summed up by Agent Smith, the anthropomorphised face of the sentient computer in The Matrix.He said, "Human beings are a disease, a cancer of this planet. You are a plague. And we are the cure." The correct response should have been "Shut up computer, or I'll unplug you." But I guess that wouldn't have made a very good movie.
On a more positive note, with people living longer, and more people in general, we may advance science and technology faster, as there will be exponentially more brains focused on the problems. Maybe we will get to that new planet in time.'
And put in our 'new' link stuff at the end: Like what you see? For weekly Element news sign up to our newsletter.
We're also on facebook and Twitter.