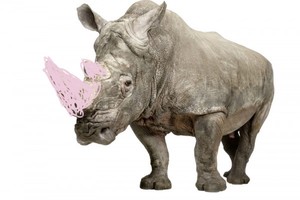 Sabi Sand Game Reserve in South Africa is taking the drastic step of injecting rhino horns with poisons and pink dye in a bid to reduce poaching.
The mix of parasiticides and pink dye that has been injected into more than 100 rhinos' horns over the last year and a half would make consumers of the horn seriously ill and could act as a major deterrent to poachers.
In South Africa 200 rhinos have already been poached this year, and it is likely that up to 1000 will be taken before the year is up. Demand for the horns in the far east, which are ground into powder and use as traditional medicines and as a delicacy, is driving the poaching.
Rhinos are tranquilised, a hole is drilled into the horn and then the bright pink dye and parsiticides are injected. Parasiticides are commonly used to treat ticks on animals such as cattles, but they are toxic to humans causing nausea, diarrhoea and stomach pains. The dye can also be detected by airport scanners - even when the horn is ground into a powder.
"Consumers of the powdered horn in Asia risk becoming seriously ill from ingesting a so-called medicinal product, which is now contaminated with a non-lethal chemical package," said Andrew Parker, chief executive of the Sabi Sand Wildtuin Association, a group of private landowners in Mpumalanga province.
Parker says that a media campaign and signage will make the implications of poaching and selling the horns clear. "If somebody does consume it, they won't die and hopefully word will spread that you shouldn't take rhino horn."
Parker stipulates that this kind of action is necessary and will help stem the demand for the product. "Everything we've tried has not been working and for poachers it has become a low-risk, high-reward ratio. By contaminating the horn, you reduce the reward and the horn becomes a valueless product.
"We're saying to the poachers: 'Don't bother coming to Sabi Sand. You're wasting your time.'"
The scheme has drawn some criticism from those working in the wildlife trade monitoring area who say that the deterrent is impractical in larger areas like Kruger National Park with free-ranging animals causing poacher intensity to be displaced to these areas. 145 rhinos have been killed in Kruger park this year. Critics also say that bleach could be used to disguise the colour.
Source: Guardian