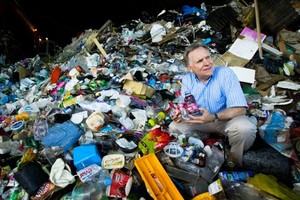 Can we make waste a thing of the past?
Every year, New Zealanders toss about 2.5 million tonnes of material in holes carved out of our countryside. That is more than a tonne per household. The majority of this is not reprocessed or recycled, and does not readily biodegrade. The landfills leak the powerful greenhouse gas methane into our atmosphere, and can leach a toxic cocktail of chemicals into our natural freshwater supplies.
The Waste Minimisation Act 2008 introduced a $10 per tonne waste levy on all materials disposed of in landfills was the latest legislative attempt to get this under control. It diverted more than $6.5m dollars to new local government, community and businesses waste reduction projects. But many felt it did not go far enough. Now much more radical measures have been put forward for our largest city, in the shape of the Draft Auckland Waste Management and Minimisation Plan.
The plan is ambitious. The council wants to make Auckland, which currently produces a third of the nation's waste, into the most liveable eco city in the world, producing no waste at all by 2040.
The focus is on turning more of that waste into useful resources.
The most obvious changes will be the bins on the kerbside and the way we pay for them to be emptied. The Council proposes to give all households a wheelie bin with a choice of bin sizes from 80 litres, equal to around two rubbish bags, to 240 litres, about six bags. The plan is that each bin will be fitted with an electronic tag to record the number of times the bin is lifted and emptied. The cost of each 'lift' will be deducted from your prepaid customer account with small bins costing less to empty than big bins. If a bin is not put out for its fortnightly collection you won't have to pay for it to be emptied.
The council reckons the changes will be phased in at around $2.50 per lift for an 80-litre bin, which equates to about $1.25 a week. Recycling, on the other hand, will be funded through rates or a flat surcharge, so you won't get penalised if you recycle more.
Crucially, this means that those of us who shop more carefully to reduce waste and recycle as much as possible will be rewarded with lower waste bills. It is also intended to steer much more of our valuable resources away from the holes in the ground and back into use.
The other big changes could be in what happens to garden and food waste. Although composting at home is still seen as the most environmentally friendly option, realistically it doesn't fit every situation, and many people are still unwilling or unable to do it. In the meantime, compostable food scraps and garden waste are still finding their way into landfills, where they cause additional greenhouse gas emissions and pollution risks as it putrefies.
To tackle this, Auckland council's proposals include the provision of a small weekly organic waste bin to take household food scraps and possibly some garden waste. Today about 80,000 Aucklanders use garden bag collection services, most of which finds it way to Living Earth, New Zealand's largest commercial composting firm.
The company converts food and garden waste into an ever-increasing range of carefully designed soil enriching composts which are sold to gardeners, farmers and wine growers across the country.
The firm has already established one of Australasia's largest composting plants for food and garden waste in Christchurch, dealing with 80,000 tonnes of material a year collected via a green bin service to every resident, and it is bound to be in the running for similarly large scale projects in line with Auckland's new approach.
Rob Fenwick co-founded the company and is chairman of the Ministerial Waste Advisory Board.
"It's a good plan and it might be one of the big achievements of the super city because it was impossible to get a single cohesive waste plan between the seven councils we had before," he says. "The key elements to the plan are polluter pays and a food waste collection service for everyone. Those are both very good initiatives. They will deliver long-term benefits for the city and bring it into line with other first class cities around the world.
"Municipal composting of food waste and garden waste, plus wastes from abattoirs, canneries, fish factories, breweries and supermarkets is now pretty standard in many large cities in Europe, Australia and many parts of UK and US," he says.
"Civic leaders have come to realise organic waste is a threat in a landfill and a valuable asset when it's composted as nature intended and returned to the soil."
But he acknowledges we still have a long way to go. ?"I'm afraid New Zealand continues to be one of the most wasteful countries per capita in the world. Pricing is critical. As a general rule, cities where the landfill disposal price is cheap produce a lot of waste. That's why the Waste Minimisation Act with a landfill disposal levy introduced in NZ a few years ago, was so important to get the country on the path to reducing waste."
Warren Snow runs the Envision sustainability consultancy, and has spent more than two decades working on large waste projects up and down the country. He also finds a lot to like in the new plan.
"This is the best plan that Auckland has had for a long time, there has been nothing like it before," he says. "And I think there is now the political will to push this through. I have been speaking to various council officials, they really want change and this plan is the tool to do it."
Envision would go further, however. In 2005 the company proposed a network of resource recovery facilities across the Auckland region. These would be based around seven major resource recovery parks that would bring together all the businesses engaged in recycling and reusing materials, and linked to 60 smaller community recycling depots. The company estimated that as well as significantly reducing landfill and waste cost, this would create about 10,000 jobs in the city over 10 years.
But perhaps more fundamentally, Snow argues that decisions on our waste need to be taken away from big business and placed firmly back in the hands of the people and our representatives.
"There are some things which should be privatised, but we have made huge mistakes in privatising the waste system because there is so much public interest in it," he says. "We have left this problem in the hands of the waste industry, and their interests are not aligned with our own. Most of them own big landfills and want to fill them up."
Others agree. Many early adopter recycling initiatives were set up by local groups with more of an eye on community wellbeing than the dollar, but many of these have since been swallowed up by large companies. For example, in 2009 the Auckland City Council voted to replace the popular local system on Waiheke Island with one run by the multi-national company Visy in order to cut costs.
The locals argued in vain that they had achieved 40% recycling rates, local employment, local use for most of the waste and widespread support for the idea of waste minimisation as a whole. They also voiced concerns that the convenience of this new large-scale approach may not motivate people to reduce what they throw out overall, since disposing of all the recycling into a single wheelie bin is so convenient.
Another result of this corporate take-over of our waste is that large packaging firms have been able to ward off mandatory regulation in favour of voluntary measures. Snow believes these don't work.
For example, in 2004 the voluntary New Zealand Packaging Accord was created for the industry to negotiate voluntary targets on packaging recovery, by weight. And the forum published figures showing improved recycling rates. But it came to an end in 2009. Last year the council published a voluntary code of practice, providing advice on the design and manufacture of packaging, as well as its recycling and disposal to minimise its environmental impacts.
It has also pledged to create its own government accredited product stewardship scheme, but this has so far failed to materialise.
Snow says: "In the wake of Rogernomics we seem reluctant to place mandatory requirements on producers. We used to be pioneers on this, but we have lost ground tremendously in the last five to 10 years."
At the same time he says the national Zero Waste goal which once identified New Zealand as a leading nation on this issue has been quietly dropped by the National government. The risk is that if we don't get control of our waste, we will also be wasting the economic and employment opportunities that developing smart clean technologies could bring to the country.